Nutritional Info
Servings Per Recipe: 12
Amount Per Serving

Calories: 268.9
Total Fat:

4.9 g

Cholesterol:

79.1 mg

Sodium:

547.2 mg

Total Carbs:

19.3 g

Dietary Fiber:

3.8 g

Protein:

34.6 g
Report Inappropriate Recipe
Mexican chicken and rice casserole
Submitted by: DANITHOM25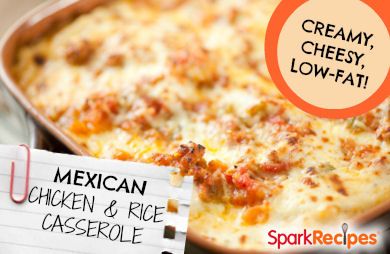 Introduction
This is a family favorite!
This is a family favorite!
Ingredients
1 can fat free cream mushroom soup




1 can fat free cream chicken soup




1 can water




1 can black beans, drained and rinsed




1 can Rotel diced tomatoes with chilies




1 1/2 c rice




1 pkg taco seasoning




cilantro and green onions chopped (optional)




3 pounds frozen boneless,skinless chicken breasts (6 breasts)




1 cup shredded cheddar cheese
Tips
Also good with light sour cream!
Directions
13x9 in glass casserole dish with cooking spray
wisk soups, water and taco seasoning in bowl then pour into bottom of dish
sprinkle rice over soups
place chicken breasts FROZEN over soup and rice
pour beans and tomatoes over chicken, cilantro and green onions sprinkled on top.
Cover with foil, bake 350 degrees 1 hour,40 min.
remove foil, sprinkle shredded cheese over to melt.


Rate This Recipe
Member Ratings For This Recipe
Well I just kind of did what I thought, cooked the rice first, and used 4 chicken breasts, it was AMAZING! My boyfriend loved it and woke up in the middle of the night STILL talking about it! great recipe will make over and over and over again!! I also added corn with red peppers. MMMM

- 4/14/09

made this tonight and it was very good although, I didn't precook the rice and it was not all the way done. Very good flavor and definetly will make it again, but will adjust so that the rice will come out!

- 4/15/09

Reply from

DANITHOM25

(4/16/09)

I use enough chicken to cover the casserole...usually 5-6 depending on size. For the nutrition values, I used 6.

This was FABULOUS! I used raw Basmati rice and only cooked it for 1hr 15mins - it came out PERFECTLY! We also ate it in "La Tortilla Factory" Tortillas...My husband and I loved it and we gave left overs to the neighbors, who asked for the recipe! WELL DONE!!!! AWESOME, AWESOME MEAL!!!

- 4/22/09

I made this in the slow-cooker (low for 5 hours, probably high 2-3) but made sure to thaw the breasts out first, halved the water. It turned out delicious! I also followed ASHFRESH's suggestion and added corn w/peppers. Just a warning, if you cook the rice all the way it may turn out mushy.

- 4/20/09

Made this last night...yum. I'm having a hard time believing this is only 240 calories. Serving size would be helpful. I used chicken that was not frozen, and uncooked brown rice. I baked at 375 for 60 minutes. It helps to make sure the rice is covered by the soup. Will make again.

- 1/28/10

This is really tasty and lo and behold my whole family will eat it!! It's so easy to make and throw in the oven in a pinch. I left out the cilantro, green onions, and cheese and it was still delicious. The only other thing was that I found the rice cooks better when stirred in with the soups.

- 5/14/09

Really tasted good and it was easy to make. I used 5 chicken breasts, and it made enough for dinner for 2 tonight, dinner later this week and a large dinner in the freezer. Will be leftovers for lunch for DH too. 12 servings would be quite small. I'd make this for potluck anytime.

- 5/6/09

This was very tasty, although a bit spicy hot for our palate. I would definitely make again using less taco seasoning (this would cut down on the sodium too) and just diced tomatoes instead of the tomatoes with chiles (not sure if they were hot or not) I also used cream of celery instead of chicken.

- 4/25/09

I made a Makeover of this recipe. I substituted quinoa for the rice in this recipe. It was FANTASTIC!

It made a huge mess, though, since it didn't all fit in the pan. Even after taking quite a bit out before cooking, it still boiled over into my oven. I heavily recommend using a BIG casserole dish

- 12/6/12

I will try this again. Did not have cream of chicken and used brown rice. Was horrible. But I will try it again with no subs and rate it again.

- 4/24/09

Reply from

DANITHOM25

(6/4/09)

Yeah... you try again.