Nutritional Info
Servings Per Recipe: 8
Amount Per Serving

Calories: 199.4
Total Fat:

8.7 g

Cholesterol:

27.6 mg

Sodium:

83.2 mg

Total Carbs:

28.5 g

Dietary Fiber:

3.6 g

Protein:

4.1 g
Report Inappropriate Recipe
Country Peach Tart
Submitted by: MELINDACRISTINE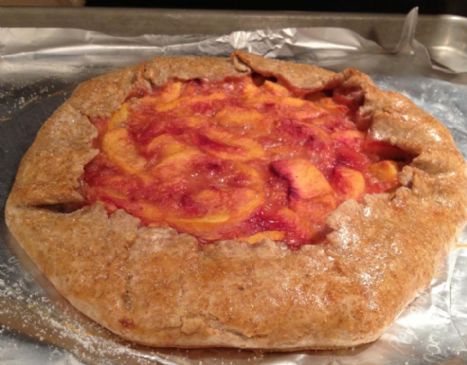 Introduction
Healthy way to eat a great Peach Tart
Healthy way to eat a great Peach Tart
Ingredients
Ingredients for Pastry for Single-Crust Pie:




1 1/4 cups whole wheat flour




1/4 tsp salt




1/3 cup shortening




4 to 5 tbsp cold water





Ingredients for filling:




1/4 cup Splenda




4 tsp whole wheat flour




1/4 tsp nutmeg




1/8 tsp ground cinnamon




3 cups peaches, pealed and sliced (1 1/2 pounds)




1 tbsp lemon juice




1 beaten egg




1 tbsp water




powdered sugar



Directions
To make the crust:
1. Stir together flour and 1/4 tsp salt. Using a pastry blender, cut in the shortening until the crumbles are pea sized.
2. Sprinkle 1 tbsp water over part of the mixture and gently toss with a fork. Push the moistened bowl to the side of the bowl. Repeat moistening dough using 1 tbsp of water at a time, until all the dough is moistened. Form the dough into a ball.
3. Line a cookie sheet with foil and lightly dust with flour. Use your hands to flatten the dough. Roll the dough from center to edges into a circle 13 inches in diameter.
4. Mix splenda and 4 tsp flour, nutmeg, and cinnamon; stir in peaches and lemon juice. Mound the peach mixture in the center of the crust leaving a 2 inch boarder. Fold the border up over the peaches. Pleat the crust as necessary.
5. Combine one beaten egg and 1 tbsp water brush on to the top and sides of crust.
6. Bake in 375 degrees for 40-45 minutes or until crust is golden. To prevent overbrowning, you can cover the crust with the edge of the foil for the last 10-15 minutes of baking. Cool 30 minutes on the baking sheet. Dust with powdered sugar.

Serves 8


Number of Servings: 8

Recipe submitted by SparkPeople user MELINDACRISTINE.


Rate This Recipe
Member Ratings For This Recipe