Nutritional Info
Servings Per Recipe: 12
Amount Per Serving
Calories:

176.7
Total Fat:

9.9 g

Cholesterol:

54.9 mg

Sodium:

530.4 mg

Total Carbs:

12.6 g

Dietary Fiber:

0.8 g

Protein:

9.1 g
Report Inappropriate Recipe
Meatloaf Muffins
Submitted by: SGASKILL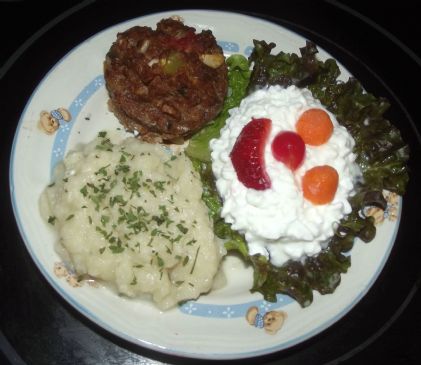 Introduction
Add Lipton onion soup mix too! One packet works fine! Rotel works in place of the stewed tomatoes for a spicy kick! Soup Mix not included in nutrition value
Add Lipton onion soup mix too! One packet works fine! Rotel works in place of the stewed tomatoes for a spicy kick! Soup Mix not included in nutrition value
Ingredients
Ground beef, lean, 16 oz




Stewed Tomatoes, 1 cup




*Ketchup, Heinz, 4 tbsp




Heavy Whipping Cream, 2 tbsp




Bread crumbs, dry, grated, seasoned, 1 cup




Egg, fresh, 1 jumbo




Lea & Perrins, Worcestershire Sauce, 3 tsp




Salt, 1 tsp




Pepper, black, 1 tbsp




Cider Vinegar, 1 tbsp




Brown Sugar, 6 tsp packed
Directions
Combine all ingredients in a mixing bowl, except 1 T of the ketchup, cider and brown sugar. Using your hand works best! Fill 12 muffin tins. Mix remaining ketchup, vinegar and brown sugar in a small bowl. Spoon over muffins. Bake 350 for 30 minutes.

Number of Servings: 12

Recipe submitted by SparkPeople user SGASKILL.


Great Stories from around the Web
Rate This Recipe
Member Ratings For This Recipe
I enjoyed this recipe. We used the diced tomatoes with garlic and basil flavoring. I used half cup in meat and mashed the rest of the can up for the sauce. Add brown sugar to tomatoes and no vinegar(didn't have any). Problem is, when food is too good, I eat more. So I had 2 instead of one. Yum.

- 4/23/09

This was the moistest and tastiest meatloaf I have ever had! I mistakenly left out the 2 T. heavy cream... let me tell you - you will not miss it! I also cut out the salt and it was perfect. So good I had to eat 2, oops. My boyfriend is a tough critic, but he also loved these! Thanks for the recipe!

- 5/27/09

I found a good filler instead of crumbs or oats.I didn't have any of either and didn't want to go to the store.

I tried 1 1/4 cp. ofRice Krispies per lb. of meat product and it was delicious.It's the only thing I use now.I also add roasted garlic,just personal taste...Chef Jim

- 6/2/09

This turned out great! I am making it again.

- 4/22/09

Reply from

SGASKILL

(4/23/09)

I like to add lipton onion soup mix too! One packet works fine! Rotel works in place of the stewed tomatoes for a spicy kick!