Nutritional Info
Servings Per Recipe: 12
Amount Per Serving

Calories: 98.4
Total Fat:

0.7 g

Cholesterol:

0.0 mg

Sodium:

220.7 mg

Total Carbs:

21.1 g

Dietary Fiber:

2.6 g

Protein:

3.1 g
Report Inappropriate Recipe
100 calorie blueberry muffins
Submitted by: IAMSUCCEEDING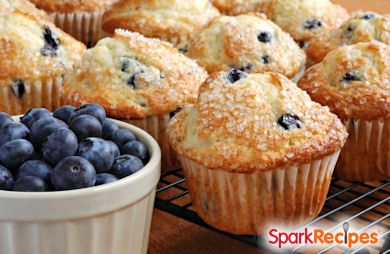 Introduction
2 points each
2 points each
Ingredients
1 cup flour




1c oats(old fashioned)




1 teaspoon baking soda




1/2 teaspoon salt




1 teaspoon cinnamon




1/2 cup sugar free applesauce




2 egg whites




1/2 cup sugar




1/2 cup water




1c blueberries, frozen
Directions
Spray 12 cup muffin tin and preheat oven to 350. Mix flour, oats, soda, cinnamon and salt together. Add applesauce, sugar egg whites and water, mix until just blended. Add in blueberries. Bake at 400 for 20-25 minutes or until tops have lightly browned.



Number of Servings: 12

Recipe submitted by SparkPeople user IAMSUCCEEDING.


Rate This Recipe
Member Ratings For This Recipe
Just put them in the oven. I used about an extra 1/8 cup sugar and the batter tastes very sweet. If they turn out yummy, we're making a batch for the neighbors and company. Love the oats and applesauce!

Okay. They are super delicious and plenty sweet. Second batch has only 1/2 c. sugar.

- 6/14/09

This was a good recipe and I will make it again, but it could likely be tweaked into something great. It was a little dense and stuck to the cupcake papers. I might try to get it a little fluffier next time. But there will be a next time - it's worth making again.

- 10/11/12