Nutritional Info
Servings Per Recipe: 6
Amount Per Serving

Calories: 175.5
Total Fat:

1.6 g

Cholesterol:

68.4 mg

Sodium:

375.4 mg

Total Carbs:

11.6 g

Dietary Fiber:

0.2 g

Protein:

27.9 g
Report Inappropriate Recipe
Honey Grilled Chicken Breasts
Submitted by: SARAK31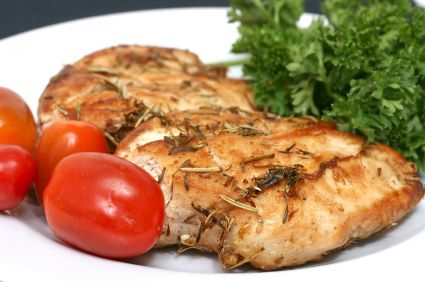 Ingredients
1/4 cup fresh orange juice




3 tablespoons honey




2 tablespoons fresh lemon juice




2 tablespoons soy sauce




1 tablespoon peeled and minced fresh ginger




1 tablespoon minced garlic




Salt and freshly ground black pepper, to taste




6 boneless, skinless chicken breast havles, 4 to 6 ounces each rinsed and patted dry
Directions
1. Combine all of the marinade ingredients in a large bowl. Add chichen breast and tass well in the marinade to coat. Cover and marinate in the refrigerator for 4 hours or overnight, turning occasionally. Bring to room temperature before grilling.
2. Grill the chicken breasts over hot coals, 3 inches from the heat source, 4 to 5 minutes per side or until cooked through. Remove t a plate and let sit for 5 minutes before serving.

Serves 6

Number of Servings: 6

Recipe submitted by SparkPeople user SARAK31.


Rate This Recipe
Member Ratings For This Recipe
I COOKED FOR SUPPER I I THAWED 7 CHICKEN BREASTS PLANNING ON LEFT OVERS . WRONG GRANDSONS CAME HERE AFTER SCHOOL. WAS HUNGRY. SON TOOK SOME FOR HIS WIFE AND HIMSELF. LEFT 3 PIECES FOR HUBBY AND I. NO LEFTOVERS . I USED FOREMAN GRILL. I DIDN'T GET TO MARINATE 4 HRS JUST 2 DELICIOUS. WILL DO AGAIN

- 4/14/09

My husband and I LOVED it!! I grilled it on my Foreman Grill and it came out perfect!! The meat is moist and delicious, the seasonings are perfect. I sliced the chicken into strips, measured out 4 oz. and served it on a bed of brown rice with asparagus spears. Adding grilled pineapple next time!!

- 7/4/08

This recipe sounds fantastic; I was wondering if it would work for a steak? I'm doing a LOT of grilling and dry rubs; low sodium soy sauce is a staple. Hubby lost 14 lbs in 2 1/2 weeks; portion control is the answer! (That, and delicious recipes!) Thank you for the variety; that makes diets work!

- 7/3/09