Nutritional Info
Servings Per Recipe: 8
Amount Per Serving
Calories:

192.3
Total Fat:

8.8 g

Cholesterol:

1.3 mg

Sodium:

603.8 mg

Total Carbs:

19.5 g

Dietary Fiber:

5.1 g

Protein:

10.6 g
Report Inappropriate Recipe
Vegetable Coconut Curry Soup
Submitted by: GLOBALJUJU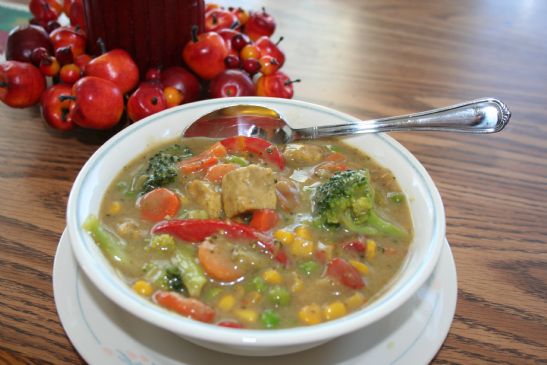 Introduction
A delicious, nutritious, hearty soup.
A delicious, nutritious, hearty soup.
Ingredients
3 TBS sesame oil (any vegetable oil will do)




1 or 2 finely diced jalapeno, or other medium-sized, spicy pepper




4 cloves garlic




3 thin, long slices of ginger.




4 cups tap water




2 vegetable boullion cubes




1 cup diced carrots




1 jar/can baby corn




1 cup evaporated milk, 1% or non-fat




1/2 cup coconut paste (sweetened) - the kind you would use to make pina coladas




2 TBS curry powder




1 TBS salt




black pepper (to taste)




white pepper (to taste)




dash of ground cloves




1/2 cup dried TVP, chicken cube style




(You may add whatever veggies you like to this soup).
Directions
Sautee vegetables until tender in a large sauce pan (I usually boil the carrots separately and throw them in later. It's just easier).
Add spices and sautee three minutes more.
Add 4- 6 cups water (depending on how thick you want it!) and two bouillion cubes.
Add 1/2 cup TVP.
Simmer 10 - 15 minutes.
Add 1 TBS corn starch, dissolved in 1/4 cup tepid water, and stir into soup mixture.
Simmer another five minutes.
Add 1 cup evaporated, whole milk.
Remove from heat.
Remove ginger.
Serve over brown rice or alone.

Number of Servings: 8

Recipe submitted by SparkPeople user GLOBALJUJU.


Great Stories from around the Web
Rate This Recipe
Member Ratings For This Recipe
Very yummy! I used a can of lite coconut milk and no evaporated milk and it was still delicious. Made my own chx broth from a rotisserie chx and added chx with mushrooms, zucchini, baby corn, onion, carrots,& broccoli into soup because I didn't feel like sauteeing the veg. Will make again, thanks!

- 9/2/14

...I did a Makeover for this recipe as I didn't have all the ingredients and it seemed like a lot of sugar and fat. I used silk coconut milk and other substitutions and almost doubled (2Cups) the portion size for 300 cals each count. Go to my spark page and look in my recipe collection to find it.

- 1/17/12

When it comes to the coconut paste...are you referring to the frozen mixers for pina coladas? I couldn't find anything else that came close to "coconut paste" in the huge store I was in. I want to make this Saturday, so if you get a moment to reply, that would be really appreciated. Thanks!

- 10/1/09

Reply from

GLOBALJUJU

(5/14/11)

I live overseas and coconut milk is hard to get, so I brought some of the pina colada mix with me. It's in the alcohol section. It's sometimes in a can, but lately in a squeeze bottle. It's really a cream of coconut... comes out kind of like a syrup. I'm using "Simply Squeeze" by Coconut Real.

The soup base sounds great - did I miss what vegetables and what quantity of veggies?

- 5/21/09

Reply from

GLOBALJUJU

(5/24/09)

Sorry! I guess I didn't put what veggies. I use carrots and baby corn as a must, and you can add whatever vegetables you like on top of that. I'll go add that to the recipe right now!

My mom & I LOVED this recipe, especially the use of TVP. I love coconut to begin with - and it gave us enough to have throughout the week.

- 5/12/09

Reply from

GLOBALJUJU

(5/24/09)

Thanks! I'm glad you enjoyed it! I can eat it for days on end, weeks at a time.