Nutritional Info
Servings Per Recipe: 16
Amount Per Serving

Calories: 176.5
Total Fat:

8.2 g

Cholesterol:

12.9 mg

Sodium:

484.6 mg

Total Carbs:

19.0 g

Dietary Fiber:

3.1 g

Protein:

7.6 g
Report Inappropriate Recipe
Veggie Pizza on Whole Wheat Crust with Feta and Mozzarella Cheeses
Submitted by: CURVES_N_CURLS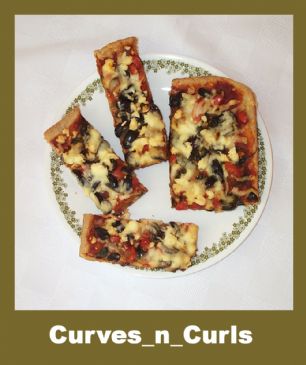 Introduction
A kickin' vegetarian pizza! Extra-good, 'cause it's made on a whole wheat crust!
A kickin' vegetarian pizza! Extra-good, 'cause it's made on a whole wheat crust!
Ingredients
For one cookie sheet size pizza use:


Jenny's Whole Wheat Pizza Dough RECIPE (View Recipe Here)


1 can (Unico Garlic & Basil) Pizza Sauce, 213ml / 7.5 fl. oz.




1/2 tbsp. Olive Oil




Black Pepper to taste (NOT in nutritional calculations!)




55g Onions, chopped




185g Red Bell Peppers, chopped




6 cloves Garlic, chopped




165g Mushrooms, sliced




140g Spinach, fresh, torn




175g Red Ripe Tomatoes, seeded and chopped




170g Black Olives, sliced




120g Feta Cheese, crumbled




200g (2 cups) Mozzarella Cheese, shredded




1 tbsp. Canola Oil (for coating the cookie sheet before baking!)
Directions
1. Pre-heat oven (375F).
2. Using a large skillet or wok (I prefer the wok), sautee all the vegetables for a few minutes(except the spinach and tomatoes) in the 1/2 tbsp. of olive oil with a bit of black pepper.
3. Add the tomatoes and spinach, and sautee for a minute or two more, or until the spinach wilts and shrinks down a bit. Remove vegetables from the heat.
4. Roll the pizza dough out onto a large, OILED cookie sheet.
5. Spread the can of pizza sauce on the prepared pizza dough.
6. Add a bit of the shredded mozzarella cheese to the prepared crust.
7. Evenly spread the sauteed vegetables over the crust.
8. Spread the black olives over the crust.
9. Crubmle the Feta cheese evenly over the crust.
10. Top with the remaining mozzarella cheese.
11. Bake in the pre-heated oven for 11 - 13 minutes.
12. Remove from oven, let stand a few minutes, and slice into 16 equal pieces.
12. Enjoy! :)

Number of Servings: 16

Recipe submitted by SparkPeople user CURVES_N_CURLS.


Rate This Recipe
Member Ratings For This Recipe
To find the crust recipe, you can do a search in the search engine for Jennys whole wheat pizza crust, or just click on "curves_n_curls" name next to "submitted by" and it will show all the recipes she's submitted. It's in there too. I was able to find it both ways so whatever is easier for you.

- 11/1/08

I swapped mozz for goat cheese to get more flavor with less cheese. I added sun-dried tomatoes to the fillings and dropped the olives (too much sodium for me). There are great pre-made pizza crusts at Trader Joe's and Whole Foods if you're pressed for time or just bad at dough like me.

- 12/21/09

This was really good. I was able to use the left over vegetables for other recipes during the week. I knew reading the recipe that it was a little more labor-intensive than what I usually make. My only real complaint was that my crust was floppy. Maybe a crisping stone would've helped?

- 6/29/09

Sounds delish! I make a Mediterranean pizza that's similar - no mushrooms, spinach or tomatoes - but I use yellow squash, thinly sliced eggplant, onions and red peppers - lightly oil them and grill them until soft - add to pizza - add mozz and feta and black olives.... sooo good!

- 6/12/09

I made this with regular refrigerated pizza dough and orange bell peppers (all I had in the house). I also removed the mushrooms (I LOVE them, but DH won't eat anything that has even touched them) and olives (too salty). It was AMAZING!I will definitely make this again; even my DH devoured it!!

- 12/21/09

This is my idea of great pizza! Whole wheat crust, fresh veggies, and feta cheese - what a fantastic combination of flavors. This is a meal I could probably eat every day. This pizza fits in very well with my dietary lifestyle (flexitarian)--whole grains, healthy oils, and plenty of vegetables.

- 10/31/09

I make this same pizza usingmy own homemade whole wheat dough which I add ground flax seed to for added health benefit. I don't know if the measurments are exactly the same because I don;t measure in grams. I also only put the olives on half cuz I can't eat them which cuts downs on my sodium. Delish

- 7/19/09