Nutritional Info
Servings Per Recipe: 6
Amount Per Serving

Calories: 223.7
Total Fat:

9.2 g

Cholesterol:

80.5 mg

Sodium:

663.4 mg

Total Carbs:

2.2 g

Dietary Fiber:

0.1 g

Protein:

29.5 g
Report Inappropriate Recipe
Favorite Grilled Salmon
Submitted by: BALLIGIRL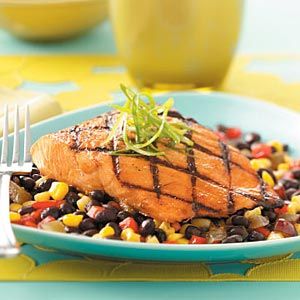 Introduction
Great with Black Bean Salsa!
Great with Black Bean Salsa!
Ingredients
1/4 cup white wine or reduced-sodium chicken broth




1/4 cup reduced-sodium soy sauce




1-1/2 tsp brown sugar




1 garlic clove, minced




6 salmon fillets (4 oz each)
Directions
1. In a small bowl, combine the wine, soy sauce, and brown sugar. Set aside 2 TBSP of mixture for basting. Stir garlic into remaining mixture. Place in a large resealable plastic bag; add hte salmon. Seal bag and turn to coat; refrigerate for30 minutes, turning occasionally. Meanwhile, prepare the Black Bean Salsa.
2. Coat the grill rack with cooking spray before starting he grill. Drain and discard marinade. Place salmon skin side down on grill rack.
3. Grill, covered, over medium heat for 10-12 minutes, or until fish flakes easily with a fork, basting occasionally with reserved wine mixture. Serve with salsa

Number of Servings: 6

Recipe submitted by SparkPeople user BALLIGIRL.


Rate This Recipe