Nutritional Info
Servings Per Recipe: 6
Amount Per Serving
Calories:

540.2
Total Fat:

49.6 g

Cholesterol:

36.6 mg

Sodium:

4.0 mg

Total Carbs:

23.8 g

Dietary Fiber:

8.9 g

Protein:

7.4 g
Report Inappropriate Recipe
Fruit & Nut Crumble
Submitted by: JEZWYN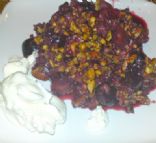 Ingredients
* Raspberries, 40 grams




* Boysenberries, frozen, unsweetened, 200 grams




* Sweet Cherries, 350 grams




* *Rhubarb, 2 stalk




* Butter, unsalted, 100 grams




* Pecans, 180 grams




* Walnuts, 125 grams




* Vanilla Extract, 1 tbsp




* Cinnamon, ground, 1 tbsp




* Nutmeg, ground, 1 tbsp
Directions
Place nuts on a lined tray and toast in a 350ºC for 8 minutes. Watch for burning like a hawk!

Then, place nuts in food processor and process briefly.

Meanwhile, place 40g of butter in a saucepan over medium heat, and add berries. Saute until softened and warmed through.

Add spices and mix for one minute.

Melt remaining 60g butter in a bowl, add nuts, and mix. Allow to cool.

Pour fruit into serving dishes, top with nuts, and serve with whipped cream.

Number of Servings: 6

Recipe submitted by SparkPeople user JEZWYN.


Great Stories from around the Web
Rate This Recipe