Nutritional Info
Servings Per Recipe: 60
Amount Per Serving

Calories: 186.5
Total Fat:

6.2 g

Cholesterol:

10.8 mg

Sodium:

105.3 mg

Total Carbs:

16.4 g

Dietary Fiber:

0.6 g

Protein:

1.5 g
Report Inappropriate Recipe
Peanut Butter Chocolate Marble Cake (Cake Balls)
Submitted by: JENSEN04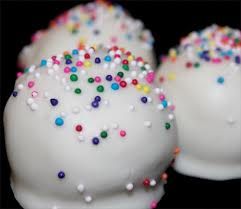 Introduction
Cake Truffles!
Cake Truffles!
Ingredients
For Cake:




1/4 cup Unsweetened Cocoa Powder




2 tbl Powdered Sugar




2 tbl Butter, Softened




2 tbl Hot Water




1 cup Peanut Butter Chips




1 tbl Vegetable Oil




1 (18.25oz) package White Cake Mix




1/2 cup Brown Sugar




1 1/4 cups Water




3 Eggs





For Frosting:




1/2 cup Butter, softened




1 cup Creamy Peanut Butter




3 tbl Milk, or as needed




2 cups Powdered Sugar





For Cake Balls:




1 pkg Chocolate Bark
Directions
1. Preheat oven to 350. Coat 9x13 pan with cooking spray and dust with flour.
2. In a small bowl, stir together cocoa, powdered sugar, butter, and 2 tablespoons hot water until smooth; set aside.
3. In microwavable bowl, place peanut butter chips and vegetable oil. Microwave for 1 minute, or until smooth.
4. In a large bowl, combine cake mix, brown sugar, 1 1/4 cups water, eggs, and melted peanut butter mixture. Beat on low speed until moistened. Increase speed to medium and beat for 2 minutes. Remove 1 1/2 cups of the batter and add it to the reserved cocoa mixture; blend.
5. Pour the peanut butter flavored batter into 9x13 pan. Drop spoonfuls of the chocolate batter on top. Swirl with a knife for a marbled effect.
6. Bake at 350 for 40-45 minutes. Cool

To make Frosting:
Place butter and peanut butter into medium bowl; beat with a mixer. Gradually mix in the powdered sugar. When it starts to get thick, add milk 1 tablespoon at a time until the mixture is thick and spreadable. Beat for 3 minutes until good and fluffy.

To make into cake balls:
1. Once cake is cooled, crumble into a large bowl. Stir in frosting of choice (chocolate or peanut butter frosting are good with this cake).
2. Refridgerate for 1/2 an hour.
3. Remove from refridgerator and shape into small balls the size of ping pongs.
4. Freeze balls for 2 hours.
5. Melt almond bark.
6. Dip balls in almond bark and place on a wax sheet of paper.
7. Decorate with colored frosting or sprinkles.

Yields about 60 Cake Balls
(Nutrition information includes almond bark. Nutrition information does NOT include frosting.)

Number of Servings: 60

Recipe submitted by SparkPeople user JENSEN04.


Great Stories from around the Web
Rate This Recipe
Member Ratings For This Recipe