Nutritional Info
Servings Per Recipe: 14
Amount Per Serving

Calories: 48.1
Total Fat:

2.1 g

Cholesterol:

1.3 mg

Sodium:

133.4 mg

Total Carbs:

5.6 g

Dietary Fiber:

0.8 g

Protein:

0.7 g
Report Inappropriate Recipe
Traditional Green Bean Casserole
Submitted by: DESIRE3279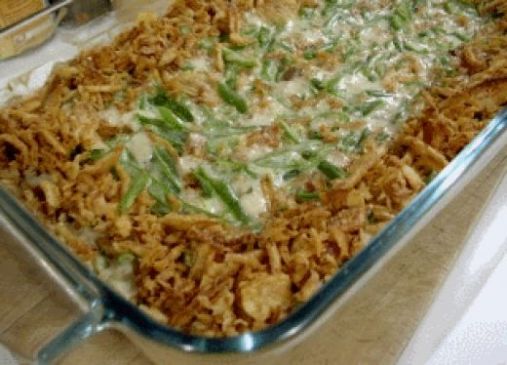 Introduction
Same recipe we all have on our French Onion cans but with less fat
Same recipe we all have on our French Onion cans but with less fat
Ingredients
Two 10-16 oz bags Frozen Green Beans - thawed




1 10oz can low-fat Cream of Mushroom Soup




3/4 C. non-fat milk




1 tsp. Black Pepper




1 - 1 1/2 C French's Fried Onions
Directions
We do not like canned green beans so we use frozen.

Thaw green beans until completely thawed. Mix soup, milk, and pepper in casserole dish. Add green beans and mix thouroughly. Bake in over at 350* for half hour or until soup is boiling. Cooking time varies with frozen beans as they take longer to cook. Once boiling, take casserole out and top with onions. Place back in oven for an additional five minutes to lightly crisp onions.

Number of Servings: 14

Recipe submitted by SparkPeople user DESIRE3279.


Rate This Recipe
Member Ratings For This Recipe
Delicious! I used 1.3 16oz bags of frozen french cut green beans, and mixed half the French's onions during cooking and the rest for the last 5 minutes. Next time I'll make it 1.5 bags and otherwise no changes. And I'm not waiting until next Thanksgiving to do this again!

- 11/27/10

I used two 16 oz bags of frozen green beans. While I didn't find them chewy or anything, it was too many green beans for the rest of the recipe. I actually used a 14.5 oz can of cream of mushroom soup (instead of a 10 oz) and almonds instead of fried onions. I probably won't make this again.

- 3/24/10