Nutritional Info
Servings Per Recipe: 10
Amount Per Serving

Calories: 9.0
Total Fat:

0.6 g

Cholesterol:

24.5 mg

Sodium:

7.5 mg

Total Carbs:

0.1 g

Dietary Fiber:

0.0 g

Protein:

0.7 g
Report Inappropriate Recipe
Hard Boiled Eggs
Submitted by: BOBBIY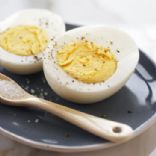 Introduction
Basic
Basic
Ingredients
Directions
Place as many eggs as you like in a saucepan in single layer. Add enough cold water to cover eggs by an inch. Heat over high heat just to boiling. Remove from burner and cover the pan. Let eggs stand in the water for about 13 minutes. Drain, let cool, then refrigerate. Serves 1-10 or more.

Number of Servings: 10

Recipe submitted by SparkPeople user BOBBIY.


Rate This Recipe
Member Ratings For This Recipe
There are only 9 calories because he only factored in 1 egg for 10 servings, so 10 people share 1 egg instead of 10 eggs 1 per person

- 7/24/09

Reply from

BOBBIY

(8/27/09)

WOW! I can tell you one thing. I'm definitely not a numbers person. The above is too confusing for me. But, thankyou for the comment anyway. LOL!! ;-)

I love eggs in their simplist form. Great!!!

- 6/22/09

Reply from

BOBBIY

(6/27/09)

Thankyou. I appreciate that. My husband loves boiled eggs. I prefer deviled eggs but this helps my dieting.

Thank....Love Hard or Soft Boiled Eggs!!

- 7/6/09

Reply from

BOBBIY

(7/10/09)

Thankyou.

how are the eggs only 9 cals and 0.6g of fat? that doesnt make sence becasue the nutriton info for eggs is more like 6g of fat and 70 cals.

- 6/29/09

Reply from

BOBBIY

(7/10/09)

I really don't know. All I know is Hard Boiled Eggs are good when you're on a diet. I think the above question needs to be asked of the spark people nutritionist because they automatically calculate the ingredients you add in your recipe, not you personally.