Nutritional Info
Servings Per Recipe: 4
Amount Per Serving

Calories: 284.3
Total Fat:

26.1 g

Cholesterol:

0.0 mg

Sodium:

2,236.4 mg

Total Carbs:

13.7 g

Dietary Fiber:

1.1 g

Protein:

2.0 g
Report Inappropriate Recipe
Sesame Seaweed Salad
Submitted by: PHRAUGIE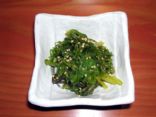 Ingredients
2 ounces dried wakame seaweed




1/3 cup rice vinegar




1 tablespoon salt




1 tablespoon sugar




1/2 teaspoon toasted sesame oil




1/2 cup soy oil




2 small red chile peppers, seeds removed and cut into thin strips




4 tablespoons sesame seeds, toasted
Directions
Place the wakame in a mixing bowl, and soak it in tepid water for 20 to30 minutes. Remove from water, squeeze dry, and trim away the tough spine. Cut into thin strips, and place in a large mixing bowl.
In a separate bowl, combine the vinegar, salt, sugar, and both oils. Pour the dressing over the wakame, add the chile peppers, and toss. Sprinkle with the sesame seeds.

Number of Servings: 4

Recipe submitted by SparkPeople user PHRAUGIE.


Rate This Recipe
Member Ratings For This Recipe