Nutritional Info
Servings Per Recipe: 3
Amount Per Serving
Calories:

477.9
Total Fat:

7.8 g

Cholesterol:

112.6 mg

Sodium:

148.4 mg

Total Carbs:

46.7 g

Dietary Fiber:

6.2 g

Protein:

44.8 g
Report Inappropriate Recipe
Paella
Submitted by: CHEEKYCHOOK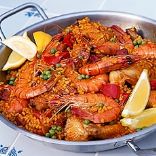 Introduction
You can of course use other seafood etc, but this is just a basic, simple recipe, but please feel free to interchange ingredients!
You can of course use other seafood etc, but this is just a basic, simple recipe, but please feel free to interchange ingredients!
Ingredients
Calasparra paella rice 150g (approx 0.75 cup)




olive oil, 1 tbsp




Chicken breasts, 2 skined and boned, chopped into bite size pieces.




1 onion, peeled and roughly chopped




1 red pepper, deseeded and roughly chopped into chunks




2 cloves garlic, peeled and crushed




1 tsp paprika




Pinch of cayenne pepper




Pinch of saffron strands




120g ripe red tomatoes, skinned and roughly diced (approx 1 cup)




9 raw tiger prawns, shell on, defrosted if frozen, 3 with heads, rest without




150g cooked prawns (approx 1 cup)




50 g fresh or frozen shelled peas (approx 0.5 cup)




1 lemon, cut into wedges, to garnish




salt and freshly milled black pepper
SparkPeople Sponsored Video
Directions
Once you have peeled, chopped, prepared and assembled everything, heat the oil in the pan over a fairly high heat. Season the chicken, adding them to the hot oil to sauté on all sides until golden brown, and then remove them to a plate.

Next add the onion and pepper and fry these over a medium heat for 6-8 minutes, or until they're nicely tinged brown at the edges. Now add the garlic, paprika, cayenne and saffron and cook for another minute.

Then add the tomatoes, plenty of seasoning and 1 litre of boiling water. Next, bring everything up to a gentle simmer, turn the heat down and cook, uncovered, for 2 - 3 minutes.

Pour the rice into the centre of the pan. Bring everything back up to the boil, give a final stir and simmer, still uncovered, for about 10 minutes. During that time, shake the pan occasionally and move it around on the hob a little if the hob plate is not as big as the base of the pan, adding a little more hot liquid if you think it's necessary. Now shake the pan again, making sure the rice is completely immersed.

Next, return the chicken, along with the prawns and peas, to the pan and continue to simmer for about 5 minutes, or until the rice and chicken are cooked through.

Turn the prawns over halfway through the cooking time – they will turn pink when cooked. The rice at the edges of the pan will take longest to cook, so to test that the paella is ready, take a little of the rice from the edges and check it's cooked through, add the cooked small prawns, stir for a minute to heat through, then remove the pan from the heat and cover with a clean tea cloth for 5 minutes to absorb some of the steam.

The paella is now ready – just garnish with the lemon wedges and don't forget to have hot plates ready to serve it on!


Number of Servings: 3

Recipe submitted by SparkPeople user CHEEKYCHOOK.


Great Stories from around the Web
Rate This Recipe