Nutritional Info
Servings Per Recipe: 8
Amount Per Serving
Calories:

170.5
Total Fat:

0.8 g

Cholesterol:

2.5 mg

Sodium:

263.1 mg

Total Carbs:

36.7 g

Dietary Fiber:

6.1 g

Protein:

6.8 g
Report Inappropriate Recipe
Slow Cooker Boston Baked Beans
Submitted by: CHEF_MEG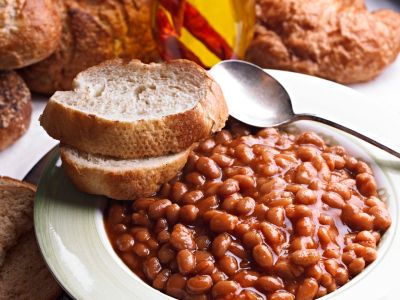 Introduction
This is a great slow cooker side dish that's incredibly easy to make!
This is a great slow cooker side dish that's incredibly easy to make!
Ingredients
1 pound dry white Northern beans




1 c onion, diced fine




2 slices bacon cut into small pieces




1/4 c brown sugar




1/4 c dark molasses




1 T brown mustard




2 T ketchup




1/2 t salt




1/2 t black pepper




3 c water
Directions
Soak beans in water overnight. Drain and rinse. Place all ingredients into a slow cooker; set on low. Cook for 6 hours.

Editor's Cooking Notes:
Omit the bacon to make these vegetarian.



Serving size: 1/2 cup



Great Stories from around the Web
Rate This Recipe
Member Ratings For This Recipe
I've only had baked beans a couple of times, and I'm pretty sure they were canned. But I wanted to give this healthy version a try. And let me tell you, you will not regret trying this! The only change I made was to use dijon mustard and turkey bacon because that is what I had on hand.DELICIOUS!

- 1/28/10

Yes you need the full amount of water. canned beans are already cooked and have absorbed the water. Now for my taste I like a bit more ketshup and a tbl. of liquid smoke.

NIce recipe.Also for canned beans you need more moisture to prevent schorching in a crock pot. Otherwise bake them. Chef Jim

- 11/2/09

tastes very good -

but something does not add up - the total of the ingredients is way over 4 cups (3 cups water alone !!!) - so it can't possibly be 8 x 1/2 cup servings - it made over 8 cups when I made it

- 11/27/09

Reply from

CHEF_MEG

(2/23/10)

The pound of beans is 16 oz (2 cups). When the water is added and they have cooked, they'll double in volume (4 cups). Divide that in half for half-cup servings=eight 1/2 cup servings.