Nutritional Info
Servings Per Recipe: 4
Amount Per Serving
Calories:

202.7
Total Fat:

12.7 g

Cholesterol:

332.1 mg

Sodium:

280.4 mg

Total Carbs:

6.2 g

Dietary Fiber:

0.8 g

Protein:

15.4 g
Report Inappropriate Recipe
Crustless Bacon & Asparagus Quiche
Submitted by: JENKNICK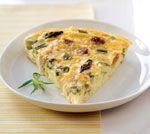 Introduction
easy and yummy
easy and yummy
Ingredients
Egg, fresh, 6 large




1 tablespoon of Flour




1/4 cup of milk




Asparagus, fresh, 8 spear




Bacon, 2 medium slices, chopped and cooked




1/4 cup Cheddar Cheese




1/4 cup of Parmesan Cheese




cooking spray (like pam)
Directions
preheat oven to 350
combine the eggs, flour & milk. wisk to combine.
boil the asparagus in salted water. put into cold water. Chop into bite-sized pieces about 2 inchs long. Chop bacon into 1/2 inch pieces and cook until crisp.
Spray 8 x8 inch or 9 inch pie plate with oil. add the cheese to the eggs & wisk to combine. add the bacon & aspargus. bake for 25 min. at 350

Number of Servings: 4

Recipe submitted by SparkPeople user JENKNICK.


Great Stories from around the Web
Rate This Recipe
Member Ratings For This Recipe