Nutritional Info
Servings Per Recipe: 4
Amount Per Serving

Calories: 127.9
Total Fat:

7.1 g

Cholesterol:

8.0 mg

Sodium:

979.4 mg

Total Carbs:

9.9 g

Dietary Fiber:

1.0 g

Protein:

6.3 g
Report Inappropriate Recipe
OVEN BAKED ZUCCHINI STICKS
Submitted by: JMGASQUE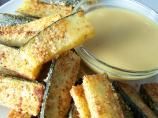 Introduction
Better than the fried version
Better than the fried version
Ingredients
3 medium zucchini, 3/4 c whole wheat breadcrumbs (any kind will do even panko), 1/4 c grated parmesan cheese, 1 tsp. dried oregano, 1/2 tsp. ground pepper, 1/2 tsp. garlic powder, 1/4 tsp. salt ( or celery salt), 1 tbsp. olive oil.
Directions
1. Preheat oven to 450
2. Spray large baking sheet with oil cooking spray.
3. Cut zucchini lengt wise ( 1 1/2 in thick)
4. Tosss zucchini in a bowl with the olive oil.
5. Mix dry ingredients in a plastic bag.
6. Place zucchini in plastic bag and shake to coat.
7. Bake 20 min.
8. Turn zucchini, bake another 10-15 mins. or until golden
brown.
9. Serve with "Lemon Aioli" Sauce

Number of Servings: 4

Recipe submitted by SparkPeople user JMGASQUE.


Rate This Recipe
Member Ratings For This Recipe
I have been making a nearly identical recipe for a couple years. (great minds think alike, right?) It goes over BIG with my co-workers and my young kids. At work, we use light 3-cheese ranch. My kids preffer no dip. It freezes well wrapped in foil, reheat in a toaster overn for a winter snack.

- 8/12/09

Does the calorie count include the olive oil (which is omitted from the recipe) and the lemon aoli sauce(what is that?)

- 8/25/09

Reply from

JMGASQUE

(9/4/09)

Yes the calorie count does include the olive oil ... sorry to have omited it in the version that appears. Lemon Aoli is a mayonnise base sauce with lemon juice (look up recipe).

Made this recipe tonight using crushed Pepperidge Farm Herb Seasoned stuffing. The zucchini was tender on the inside and crunchy from the bread crumbs on the outside and the parmesan cheese added a nice flavor. Our 14 yr. old son, who is not a fan of zucchini, loved it. Will definitely make again

- 8/24/09

Tried this recipe for dinner last night. My husband and I loved it. The zucchini cooks up soft on the inside but crispy on the outside, and was delicious. We have a bumper crop from our garden right now so we're trying to eat it every night with dinner, and this was another great way to have it.

- 8/18/09

Who needs french fries. I forgot to coat in oil but the dry stuff stuck just fine. I also left out the salt and pepper and used 1/2 tsp of Mrs. Dash Table blend. I used Kraft Three Cheese Ranch dressing for dip. The zucchini was so soft and tender and tasty. I am making them again for dinner.

- 5/4/10

My mom and I loved these! She came over for dinner and I had zucchini I didn't want going bad. Everyone knows how that goes. Anyway, I didn't have any oregano and I used Italian Bread Crumbs. Turned out delish! Bought more zucchini today to make them for my 5-year-old daughter who loves zucchini!

- 2/11/10

I can't rate it yet. This sounds good and I would like to make it, but how can I get the water out of the zucchini if I want it in the larger pieces like the recipe? Also, what can I use instead of bread crumbs for the crust? I need to keep it low carb because I am diabetic.

- 11/16/11

It tasted pretty good, but because zucchini releases so much water when cooked, it can turn out mushy, then your crumbs are so sogged out, they'll never crisp. Another way to do this recipe is to grate the zuke, squeeze the juice out, then add ingrediens and bake it a la gratin.

- 11/11/10