Nutritional Info
Servings Per Recipe: 4
Amount Per Serving
Calories:

251.0
Total Fat:

8.3 g

Cholesterol:

14.9 mg

Sodium:

517.1 mg

Total Carbs:

26.8 g

Dietary Fiber:

3.9 g

Protein:

11.5 g
Report Inappropriate Recipe
Scallops In White Wine Sauce With Whole Wheat Linguine
Submitted by: CARLASKIS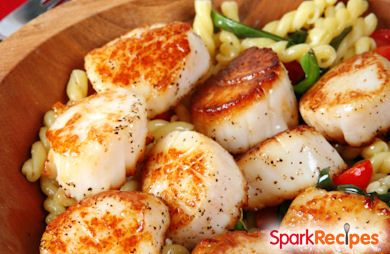 Introduction
This is a quick & easy recipe that tastes great!
This is a quick & easy recipe that tastes great!
Ingredients
4 servings whole wheat linguini




12 large scallops




2 T olive oil




5 cloves garlic, minced




1/2 c onion, chopped




1 c white wine




1/2 c chopped tomatoes




1/4 c chopped fresh parsley





(optional-serve with freshly grated Parmesan cheese)





Directions
Cook whole wheat linguine according to package directions. Meanwhile, sear scallops in medium- hot lightly oiled pan until slightly brown on each side. Remove from pan. Decrease heat to medium. Add olive oil to pan and sprinkle w/ freshly ground pepper. Add garlic & onion, sprinkle w/ salt, & saute for several minutes. Return scallops to pan, adding wine & tomatoes. Simmer until scallops are cooked thoroughly. Add parsley & salt & pepper to taste. Serve over whole wheat linguine (optional - serve with freshly grated parmesan cheese).


Great Stories from around the Web
Rate This Recipe
Member Ratings For This Recipe
How was the nutritional information calculated when the amount of linguine is not specified?

- 7/14/09

Reply from

CARLASKIS

(7/19/09)

Sorry I forgot to include that info... it is 8 oz. of whole wheat pasta (uncooked) for the whole recipe, then divided into 4 servings. Hope that helps & hope you enjoy the recipe :-)

Really, really delish! I made this for supper tonight, cutting the recipe in half for two. Very good, we both enjoyed it a lot. The scallops were nicely garlic-y, and although the sauce wasn't very "saucy", it was very flavorful, so I didn't have to put anything else on the whole wheat spaghetti!

- 6/21/09

This sounds like a really good recipe, which I will try. However, my experience with scallops is that you don't have to "cook thoroughly"--in fact, the less time, the better. They can be easily overcooked and will get rubbery in texture. A few minutes on each side is all it takes.

- 8/2/09

Made this evening, sounded like it would be good, but was a little lacking in taste. I think I'll try shrimp next time and use sun dried tomatoes instead of fresh, and maybe add artichoke. It also had a bit too much liquid. Maybe cut the wine a bit and and some crushed red pepper.

- 4/19/12

I hate to disagree with the majority but I really didn't care for this dish. I love seafood but for whatever the reason, this dish seemed like it was lacking something. I used a dry white wine it was still too sweet for me. The family said it was ok but wouldn't ask for it again.

- 6/8/11

I decided ahead of time that I would add things to the recipe - such as spinach, asparagus and mussels. When it came to the sauce though, I ended up having to add a couple tablespoons of pasta sauce and a bit of flour. Without it, it had tasted like warm wine. My version turned out fabulous!

- 1/14/11

Does this recipe call for 1/4 c of parsley or 1 and 1/4 cup? It says 1.4 and I'm not sure if this is a typo..

- 10/14/09

Reply from

CARLASKIS

(10/15/09)

It's 1/4 c. Sorry for the typo. Hope you enjoy the recipe!