Nutritional Info
Servings Per Recipe: 1
Amount Per Serving

Calories: 854.0
Total Fat:

61.1 g

Cholesterol:

611.0 mg

Sodium:

844.6 mg

Total Carbs:

35.9 g

Dietary Fiber:

2.3 g

Protein:

40.5 g
Report Inappropriate Recipe
Open Omelette with Ciabatta, Mozzarella & Basil Oil
Submitted by: IMELDASHOEQUEEN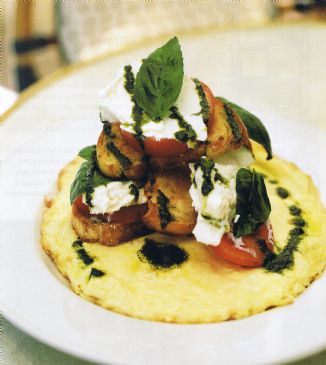 Introduction
From delicious Magazine
***PLEASE DO NOT USE THIS RECIPE AS IT IS NOT ORIGINAL - I HAVE "SHARED" IT SO I CAN LINK IT TO MY HUSBAND'S SPARKPEOPLE CALCULATIONS***
From delicious Magazine
***PLEASE DO NOT USE THIS RECIPE AS IT IS NOT ORIGINAL - I HAVE "SHARED" IT SO I CAN LINK IT TO MY HUSBAND'S SPARKPEOPLE CALCULATIONS***
Ingredients
3 slices good-quality small ciabatta




3 eggs, beaten




50ml cream




1 Tbsp butter




1 vine-ripened tomato, thickly sliced or roasted




100g buffalo mozzarella, torn
Directions
Preheat the oven to 180ºC.

Spray bread with olive oil spray and bake on a bakiing try for 5-10 minutes until crisp.

Whisk eggs, cream, salt and pepper in a bowl. Melt butter in a non-stick omelete pan or small frypan over medium heat. dd egg mix and stire with a fork, bushing egg from sides of pan to centre. Turn heat to low and cook, not stirring for 1-2 minutes until just set, then slide onto a plate.

Pile the croutons, tomato, mozzarella onto the omelette, garnish with basil, season, then drizzle with 1 tablespoon of olive oil blended with basil.

Number of Servings: 1

Recipe submitted by SparkPeople user IMELDASHOEQUEEN.


Great Stories from around the Web
Rate This Recipe