Nutritional Info
Servings Per Recipe: 4
Amount Per Serving
Calories:

128.8
Total Fat:

3.4 g

Cholesterol:

0.0 mg

Sodium:

0.0 mg

Total Carbs:

5.6 g

Dietary Fiber:

0.0 g

Protein:

17.0 g
Report Inappropriate Recipe
Low Carb Tuna Patties
Submitted by: STARSBELOW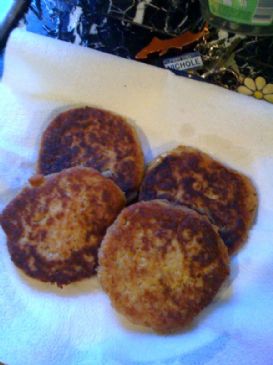 Introduction
Tuna patties with sour cream, parmesan cheese, and breadcrumbs.
Tuna patties with sour cream, parmesan cheese, and breadcrumbs.
Ingredients
1 large can tuna in water




1/4 cup Italian breadcrumbs




2 tbsp grated parmesan & romano cheese




1 egg




1 tbsp light sour cream




1 tbsp full fat sour cream***





***I made these last week and used low fat sour cream which made my patties kind of dry. Today, I added another TBSP of full fat sour cream (in addition to the TBSP of low fat) and they were much more moist than last time. A little extra sour cream divided by 4 ways isn't going to hurt. Next time, I will more than likely use 2 TBSP of full fat instead of the 1 TBSP of low fat.





I've also substituted the sour cream with ricotta and greek yogurt. if the mix is too moist for your liking, add breadcrumbs. if it's too dry, add more sour cream or a substitute. I've also added diced bell peppers and onions as well. This is a great recipe to build upon.
Directions
Mix everything together and divide mixture by 4. Make into patties and place into a hot skillet with a tiny bit of oil. Cook until browned on both sides.

Makes 4 medium sized patties.

Number of Servings: 4

Recipe submitted by SparkPeople user STARSBELOW.


Great Stories from around the Web
Rate This Recipe
Member Ratings For This Recipe
I plan to try this recipe tonight, but I think there is an error in your nutritional info...I have to watch my cholestrol, you add 1 egg, and even Eggland's Best Eggs have 175 mg of cholestrol, and 4 gm of fat and 70 calories. I'll try 1/4 c. liquid eggs with just 30 calories and 0 cholestrol/fat ;)

- 5/4/10

Reply from

STARSBELOW

(2/19/11)

i only calculate calories, fat, carbs, and protein in my recipes and don't even bother with cholesterol, sodium, trans fats, etc. so, no error.