Nutritional Info
Servings Per Recipe: 4
Amount Per Serving

Calories: 267.3
Total Fat:

2.0 g

Cholesterol:

0.0 mg

Sodium:

65.9 mg

Total Carbs:

57.5 g

Dietary Fiber:

4.3 g

Protein:

6.5 g
Report Inappropriate Recipe
Vegan Racy Raisin Rice Pudding
Submitted by: ASYNJA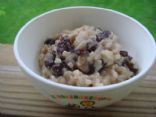 Introduction
From
From
Ingredients
2 cups Light Soy Milk




2 cups Brown Rice (cooked)




2 tsp Cinnamon




1 Tbs Vanilla




1 cup Raisins (not packed)




1/4 cup sweetener
Directions
In a medium saucepan combine everything and bring to a boil. Reduce heat and simmer on low for 15-20 minutes until pudding thickens to desired consistancy, stirring occasionally.

The original recipe calls for 1/2 cup slivered almonds, but I omitted them. I used Splenda for the sweetener.

Number of Servings: 4

Recipe submitted by SparkPeople user ASYNJA.


Rate This Recipe