Nutritional Info
Servings Per Recipe: 8
Amount Per Serving

Calories: 121.6
Total Fat:

4.4 g

Cholesterol:

7.6 mg

Sodium:

58.8 mg

Total Carbs:

25.1 g

Dietary Fiber:

3.1 g

Protein:

0.6 g
Report Inappropriate Recipe
Pie, Apple
Submitted by: MPOMEROY007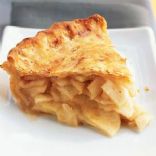 Ingredients
1 package refrigerated pie crusts (2 crusts)




7 cups peeled, cored, thinly sliced apples




1 cup splenda




1 tablespoon splenda for top




3 tablespoons flour




1 teaspoon apple pie spice




1/8 teaspoon salt




2 tablespoons butter




1/2 tablespoon milk for top




1 tablespoon lemon juice



Directions
Preheat oven to 425.
Fit 1 pie crust into a 9 inch glass pie dish.
Mix apples, sugar, flour, apple pie spice, salt, and lemon juice in a large mixing bowl until apples are coated.
Place apple mixture into a pastry lined pie dish.
Scatter butter over apple mixture
Fit top crust over and wrap excess top crust under bottom crust around edges and press edges together to seal, then flute
Brush top crust with milk
Make slits in top crust with knife to create steam vents
Sprinkle with 1 tablespoon splenda
Bake uncovered for 15 minutes then cover edge of pie with 2 to 3 inch wide strip of foil & bake for another 25 to 30 minutes


Number of Servings: 8

Recipe submitted by SparkPeople user MPOMEROY007.


Great Stories from around the Web
Rate This Recipe