Nutritional Info
Servings Per Recipe: 6
Amount Per Serving
Calories:

30.0
Total Fat:

0.2 g

Cholesterol:

0.0 mg

Sodium:

0.0 mg

Total Carbs:

5.8 g

Dietary Fiber:

0.1 g

Protein:

1.1 g
Report Inappropriate Recipe
Wheat Rice (Plain)
Submitted by: ATMANI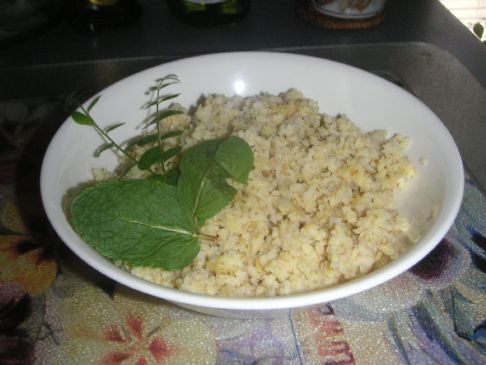 Introduction
Great substitute for rice especially for those that do not need the extra calories from rice.

Equipment needed: Rice Cooker
Great substitute for rice especially for those that do not need the extra calories from rice.

Equipment needed: Rice Cooker
Ingredients
1/2 cup Cracked wheat (wheat rice) -- available at most ethnic stores




1 cup water
Directions
1. Wash the wheat
2. Place it in a rice cooker with one cup of water
3. Plug in the rice cooker and press 'start'
4. Wallah, wheat rice is ready in 20 minutes
5. Serve with your favorite vegetables or bean dish


NOTE: Place your favorite veges or bean stew over a serving of wheat rice for a sumptuous meal.


Number of Servings: 6

Recipe submitted by SparkPeople user ATMANI.


Great Stories from around the Web
Rate This Recipe