Nutritional Info
Servings Per Recipe: 8
Amount Per Serving
Calories:

94.7
Total Fat:

2.5 g

Cholesterol:

40.0 mg

Sodium:

255.9 mg

Total Carbs:

3.3 g

Dietary Fiber:

0.8 g

Protein:

15.3 g
Report Inappropriate Recipe
Thai Chicken Salad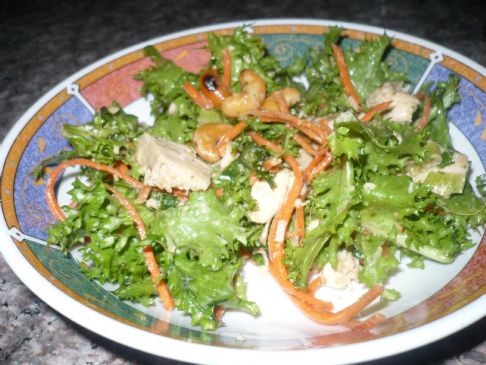 Introduction
I've never been a fan of chicken salad until now
I've never been a fan of chicken salad until now
Ingredients
Dressing =




Fresh Ginger Root, about 1 inch piece, grated




1 Garlic Clove, minced




1 tbsp Tarragon




1 tbsp Lime Juice




1 tbsp Light Coconut Milk




1 tbsp Reduced Sodium Soy Sauce




1 tsp Extra Virgin Olive Oil




1 tsp Honey




Pinch of Lime Zest




Pinch of Black Pepper





Salad =




4 Boneless Skinless Chicken Breasts




2 cups Endive, roughly chopped




1 Carrot, shredded or cut into strips




1/4 cup Scallions




2 tbsp Cashews
Directions
1) Preheat two skillets - preferably one nonstick

For Dressing

2) Whisk all dressing ingredients together

For Salad

3) Cut chicken breasts into 1/2 inch chunks. As long as you use a nonstick skillet you do not need oil to coat the chicken. Cook all the way through.

4) Place cashews in second skillet. It doesn't matter what kind of skillet it is, and do not use oil. This method is called "dry toasting" and it helps bring out the natural oils. It will take about 5 minutes. You will be able to smell when they are ready.

5) Combine dressing, cooked chicken, roasted cashews, and remaining ingredients together in a large bowl and toss well. Enjoy.

-- 2 WW points --

Number of Servings: 8

Recipe submitted by SparkPeople user BLUESUNSHINEFL.


Great Stories from around the Web
Rate This Recipe
Member Ratings For This Recipe