Nutritional Info
Servings Per Recipe: 15
Amount Per Serving
Calories:

73.4
Total Fat:

0.0 g

Cholesterol:

0.0 mg

Sodium:

5.6 mg

Total Carbs:

12.8 g

Dietary Fiber:

0.8 g

Protein:

0.2 g
Report Inappropriate Recipe
strawberry champagne punch
Submitted by: RARAAVIS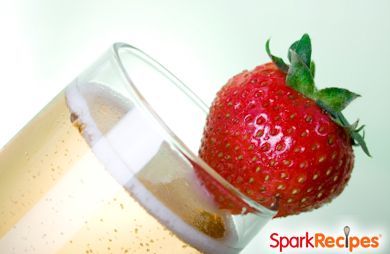 Introduction
simple little concoction for your new year's eve party
simple little concoction for your new year's eve party
Ingredients
1 (750 milliliter) bottle champagne (i used an extra dry)




1 (2 liter) bottle ginger ale, chilled (vary by how much alcohol you want in the punch...i only add about 1 liter)




2 (10 ounce) packages frozen strawberries, partially thawed, and pureed
Directions
In a large punch bowl, combine champagne, ginger ale and strawberries. Gently stir and serve.

*i pureed the strawberries and made individual servings. about 1 tsp of strawberry puree in the bottom of flute, then pour in champagne until flute is 3/4 full. then fill to top with ginger ale. cheers!

makes 15 servings of 4 ounces (rough estimate of my flute glass)

Number of Servings: 15

Recipe submitted by SparkPeople user RARAAVIS.


Great Stories from around the Web
Rate This Recipe
Member Ratings For This Recipe