Nutritional Info
Servings Per Recipe: 2
Amount Per Serving
Calories:

145.1
Total Fat:

0.4 g

Cholesterol:

0.3 mg

Sodium:

349.9 mg

Total Carbs:

27.5 g

Dietary Fiber:

1.0 g

Protein:

6.7 g
Report Inappropriate Recipe
Farina Dumplings
Submitted by: CALIDREAMER76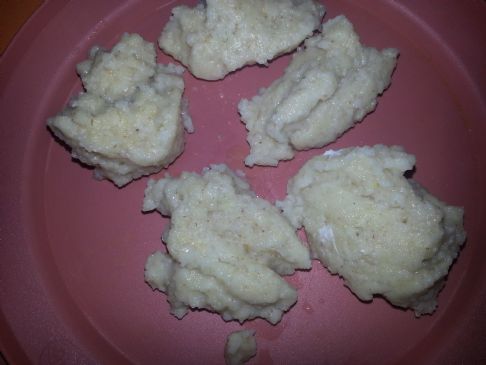 Introduction
Originally an unwritten recipe from my mother, she always made these to go with pork and sauerkraut.
Originally an unwritten recipe from my mother, she always made these to go with pork and sauerkraut.
Ingredients
1/2 cup flour




1/4 cup cream of wheat (not instant) or farina




1/4 cup egg beaters




salt to taste (approx. 1/4 teaspoon)




about a third cup water
Directions
Set a stock pot to boil.
Meantime mix the flour, cream of wheat and salt till blended. Beat one egg and add to the mixture and mix. This will be a lumpy, thick batter. Slowly add the water until you have a smoother, but still somewhat thick consistency.
Once the water is boiling, using an oval soup spoon, spoon up about half a spoonful and drop into the boiling water, making sure not to drop any directly on top of each other and dipping the spoon into the water after each one (this helps with the release).
As they cook they will begin to rise and float, allow them to boil about 5 minutes, the last couple may need a nudge from the spoon to rise and float.
Drain in a strainer and serve.
These go well with pork roasted with sauerkraut and apples.
I got approx. 15 dumplings using these amounts. A serving is approx. 7 or 8 dumplings.
These can be refrigerated and reheated.
Mom used to make these for the entire family - she'd use more flour, farina and water, but still used only one egg. The farina to flour ratio is approx. 1:2, she'd add the water slowly until it was the correct consistency.

Just thought I'd add this note: I tried to make them with whole wheat flour, which made them a little denser. Somethings are better left unchanged!

Anyone coming back to this - I've switched 1 egg for 1/4 cup egg beaters - less calories - I don't buy whole eggs any more living by myself.

Number of Servings: 2

Recipe submitted by SparkPeople user CALIDREAMER76.


Great Stories from around the Web
Rate This Recipe
Member Ratings For This Recipe
I fully intend to make this!!! Sounds great.........As far as it not being a good recipe for dieters, it is no different than a potato, i certainly do not need the 7 or 8 it calls for 1 serving, and for the cholestrol, use omega 3 eggs if you are worried about too much.

- 2/5/09

Reply from

CALIDREAMER76

(1/1/10)

Hope you did get around to trying them - I appreciate your comment that they are no different than a potato. I have since modified the recipe - using egg beaters instead of an egg - which lowers both calories and cholesterol.

OH I am so glad to have found this recipe. I loved my dumpling when we were stationed in Germany 31 years ago. I haven't had one since, but I've craved them often. So tonight we had your recipe and I was in 7th heaven, even though I had to limit myself to 1. Thank you so much for sharing this.

- 9/26/08

too high in calories and also in Cholesterol...How did it make it into spark recipes??...it sounds good but not for people on a diet...

- 7/28/08

Reply from

CALIDREAMER76

(8/16/09)

I just noticed your comment. Since posting this I have switched to eggbeaters which would lower both the calories and the cholesterol. When I make them it is w/ pork roast and sauerkraut - so the calorie count is reasonable.