Nutritional Info
Servings Per Recipe: 12
Amount Per Serving

Calories: 133.1
Total Fat:

5.3 g

Cholesterol:

0.6 mg

Sodium:

204.1 mg

Total Carbs:

20.1 g

Dietary Fiber:

1.0 g

Protein:

2.2 g
Report Inappropriate Recipe
Pumpkin's Pie-wiches
Submitted by: PRINCESSPUMPKIN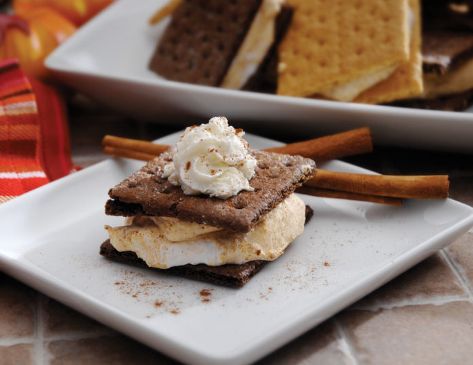 Introduction
Creamy, frozen pumpkin pie sandwiches!
Creamy, frozen pumpkin pie sandwiches!
Ingredients
1 can (about 15oz) canned pureed pumpkin




12oz tub lite whipped topping or fat-free whipped topping




1 tsp cinnamon




1/2 tsp nutmeg




1/2 tsp ground ginger




Dash of ground cloves




Splenda, to taste




12 full sheets of graham crackers
Directions
Carefully fold whipped topping into pumpkin puree, being sure to maintain its fluffiness. Fold in spices and sweeten with Splenda to reach desired sweetness.
Break graham cracker sheets into half to make 24 squares.
On half the squares, place about 1/2 cup of the pumpkin mixture.
Top with remaining cracker squares to make sadwiches.
Place on cookie sheet lined with waxed paper and freeze.
Serving size is one sandwich.

Number of Servings: 12

Recipe submitted by SparkPeople user PRINCESSPUMPKIN.


Rate This Recipe
Member Ratings For This Recipe
Awesome!!! I did however change some of the ingredients which lowered the cal & fat to 107 cal., and 3.7g. fat.. I used Cool Whip free, Low fat cinnamon graham crackers, and I also used my med. scoop from Pampered Chef to divide the filling . I got 24 instead of 12. Just the right amount of filling.

- 10/5/07

They tasted great...I just had a hard time assembling them. The mixture was runny and hard to keep on the crackers until I put it in the freezer for a little bit to harden it up. Then it was easier to spread on the crackers. I will definitely make them again though.

- 3/11/07

I substituted the cool whip with fat-free sugar-free vanilla pudding (2 packages with 2 cups lowfat milk). Also i poured the pumpkin mixture into 1/2 cup muffin tins and placed in the freezer. I then put the mixture between the crackers after it was already frozen. Good low-calorie treat!

- 12/7/07