Nutritional Info
Servings Per Recipe: 6
Amount Per Serving

Calories: 158.9
Total Fat:

5.5 g

Cholesterol:

15.0 mg

Sodium:

688.0 mg

Total Carbs:

18.4 g

Dietary Fiber:

3.5 g

Protein:

10.0 g
Report Inappropriate Recipe
Spaghetti Squash Lasagna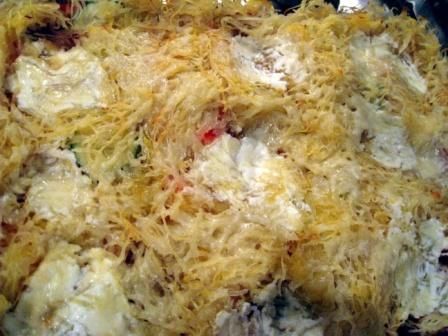 Ingredients
1 large Spaghetti Squash




1 medium-large Zucchini, thinly sliced




1 medium Red Bell Pepper, cut into thin slices




1 cup Baby Spinach Leaves




½ cup Fat-Free Ricotta Cheese




1 cup 2% Mozzarella Cheese, shredded




1 jar Spaghetti Sauce




Grounded Pepper and Parsley to taste
Directions
Preheat oven to 350°.

Poke holes in spaghetti squash with a fork and microwave it for 15 minutes. Let cool for 10 minutes then remove flesh.

In a 9 x 13 casserole dish, spread a spoonful of sauce on bottom to prevent sticking, then begin layering zucchini, red peppers and spinach. Top with a layer of squash, then dot with ricotta. Sprinkle mozzarella over all. Repeat, beginning with a layer of sauce, until you run out of ingredients (around 2 layers). Finish by layering with remaining mozzarella, parsley and pepper.

Bake uncovered for 45 minutes. It will be watery so every 10-15 minutes use a turkey baster to remove some excess water.

Number of Servings: 6

Recipe submitted by SparkPeople user CARADAWN.


Great Stories from around the Web
Rate This Recipe