Nutritional Info
Servings Per Recipe: 4
Amount Per Serving

Calories: 283.5
Total Fat:

11.5 g

Cholesterol:

101.9 mg

Sodium:

432.5 mg

Total Carbs:

4.4 g

Dietary Fiber:

0.9 g

Protein:

38.9 g
Report Inappropriate Recipe
Pan Chicken Parmesan
Submitted by: SORCHACULLEN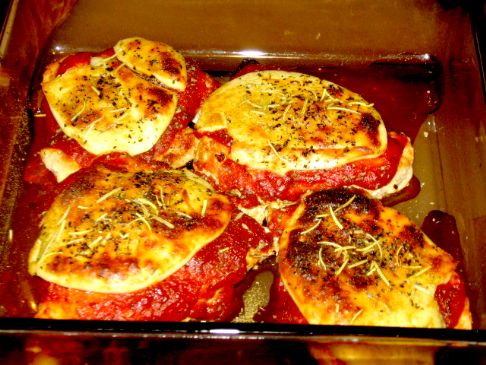 Introduction
an Easy and quick version of Chicken Parmesean
an Easy and quick version of Chicken Parmesean
Ingredients
4, 5oz boneless, skinless chicken breasts




4, .88oz slices of mozzarella cheese




1/2c Prego Traditional Italian Sauce




Salt/ Pepper/ Garlic Powder




1Tbs Olive Oil




Dried Rosemary Leaves




Ground Oregano




Dried Basil
Directions
-Season chicken with salt, pepper and garlic powder to taste.
-Heat skillet with 1tbs olive oil
-Cook chicken till done and transfer to a baking dish.
-cover each chicken breast with 1/8c Prego Sauce, 1 slice of cheese and dashes of herbs.
-bake in countertop oven, broiler or regular oven till cheese is melted and slightly browned.

Number of Servings: 4

Recipe submitted by SparkPeople user BOWIEPEACE.


Rate This Recipe
Member Ratings For This Recipe