Nutritional Info
Servings Per Recipe: 6
Amount Per Serving

Calories: 129.6
Total Fat:

1.6 g

Cholesterol:

24.9 mg

Sodium:

468.3 mg

Total Carbs:

20.0 g

Dietary Fiber:

3.5 g

Protein:

9.4 g
Report Inappropriate Recipe
Cauliflower Soup
Submitted by: JOASIA1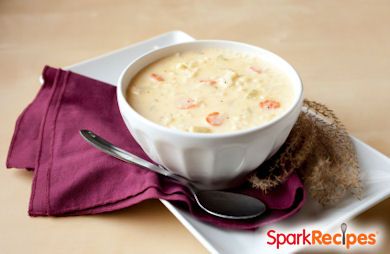 Introduction
Vegetable soup with chicken
Vegetable soup with chicken
Ingredients
4 cups of water




3 chicken legs




1 stick of celery




2 carrots




1 head cauliflower




2 medium potatoes




1 tbsp low fat sour cream




2 tbsp four




1 tsp salt
Directions
Take a medium pot, add water, chicken, chopped carrots and celery.
Chop the cauliflower and add it.
Add the salt to your taste.
Boil, on low or medium flame, for 30 min or on until vegetables are tender.
In separate container, add sour cream and flour and mix. You may add half cup of water and mix it well.
When all the vegetables and chicken are cooked, add the sour cream and flour mixture to the soup.
Boil for 2 min and serve.

Number of Servings: 6

Recipe submitted by SparkPeople user JOASIA1.


Rate This Recipe
Member Ratings For This Recipe