Nutritional Info
Servings Per Recipe: 1
Amount Per Serving

Calories: 82.0
Total Fat:

0.2 g

Cholesterol:

0.0 mg

Sodium:

9.0 mg

Total Carbs:

21.5 g

Dietary Fiber:

6.0 g

Protein:

1.8 g
Report Inappropriate Recipe
KF C YA LATER BOWL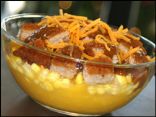 Introduction
FROM HUNGRY GIRL.COM

FROM HUNGRY GIRL.COM

Ingredients



1 cup cubed butternut squash





1 oz. skim milk





2 tbsp. canned corn niblets; heated





1/2 oz. fat-free cheese, cheddar or American; shredded





2 oz. Heinz Fat Free Classic Chicken Gravy; heated





1 Morningstar Farms Chik Patty, Original





salt and pepper; to taste







Directions
Directions:

In a covered dish, microwave butternut squash pieces for 4 - 6 minutes (until tender) in a very small amount of water. Drain very well and then mash squash with the skim milk and a little salt. Place mashed squash in a medium-sized bowl. Next, sprinkle corn niblets over your squash. Prepare "chicken" patty according to package and cut into small pieces. Place patty pieces on top of your corn-topped squash. Drizzle with gravy. Top with shredded cheese and enjoy!




Number of Servings: 1

Recipe submitted by SparkPeople user THREECMOM.


Rate This Recipe