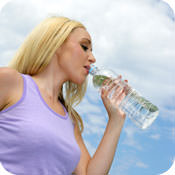 Drinking Water During Exercise
How Much Water Should I Drink When I Work Out?
-- By Dean Anderson, Personal Trainer and Becky Hand, Licensed and Registered Dietitian
The Well-Watered Exerciser
Except for oxygen, there's nothing your body needs more than an adequate supply of water. And the more you exercise, the more important it is to drink the right amount of water before, during, and after your workouts. Dehydration can make it hard to get the most out of your workout, and in extreme situations, can even be dangerous to your health. However, drinking too much water at the wrong time can also hinder performance.

So what's an exerciser to do? How do you know how much you need to drink, when to drink it, and when you might need something other than plain water, like a sports drink? Obviously, people differ a lot in body size, how much they sweat, the type and amount of exercise they do, and the climate in which they exercise. All these factors make one-size-fits-all recommendations on drinking water ineffective or even dangerous. An approach used by competitive marathoners in hot, humid weather isn't going to make much sense for you if you're jogging or walking for 30 minutes on a treadmill in an air-conditioned gym (or vice-versa). Therefore, a competitive athlete could benefit greatly from an assessment of individualized fluid, electrolyte and energy needs by a Registered Dietitian with experience in sports nutrition.