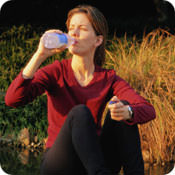 12 Tips to Drink 8 Cups a Day
Water Tactics that Help You Get in Your 8
-- By Cindy Dyson, SparkPeople member
Eight glasses of water every day? No matter how you pour them, that's a lot of liquid. We're talking cups and cups…and cups. Even knowing about the many benefits of meeting your daily quota—increased fat burning, healthier skin, more energy, better digestion, fewer cravings—doesn't make drinking it (or dealing with increased bathroom visits) any less of a struggle for many of us.

If you feel like you're barely treading water when it comes to drinking your water, don't despair. There are lots of little secrets—time-honored tricks that those elusive "water drinkers" use—that even you can try to transform yourself into an H2O-guzzling machine.

For best results, try the two that Spark your interest immediately, then add one each week until you're getting all the water you need. And remember, there is no magic number. The recommended eight cups a day is not a one-size fits all. You'll need more if you're sweating through workouts; less if you eat a lot of water-rich fruits and vegetables.

1. Try comfort water
This is a great tactic for coffee and tea drinkers. While you're waiting for the coffee to brew, nuke a glass of water (or herbal tea), squeeze in a bit of lemon and sip while you wait. Try another cup of warm water after you've had a mug or two of coffee. Hot water is also a great treat on a cold afternoon or evening. Invest in a new kind of herbal tea every time you grocery shop until you've found a couple that are just right.