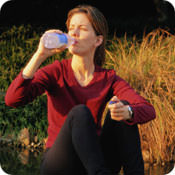 12 Tips to Drink 8 Cups a Day
Water Tactics that Help You Get in Your 8
-- By Cindy Dyson, SparkPeople member

2. Tag your water bottle
Splurge on the perfect reusable water bottle. Whether it's your favorite color or a unique design, the more you bond with your bottle, the less likely you'll be to lose it. Slap an inspirational sticker or image onto it, or even write on it with a permanent marker. Now you're ready to drink from it throughout the day—don't forget to refill it as soon as it's empty.

3. Sip up
Gulping all that water can seem daunting. So get a package of straws to slowly sip it instead. You can even pick up a water bottle with built-in straw.

4. Become a connoisseur
Think of water drinking like wine tasting. Taste the various brands and types of bottled waters available (sparkling, spring, mineral, vitamin-enhanced, reverse osmosis, filtered, fruit-flavored, etc). Be sure to read the labels as some "waters" have significantly added calories. Many bottles of water contain two to three cups of water.

5. Drink water and drive
Keep your water bottle next to you every time you hop into the car, or buy a package of bottled water to keep in the car. Whenever you're driving about, your water will be within easy reach from your car's cup holder. Think about other places you can stash some water bottles (under your desk, next to the couch, in your purse, and more).