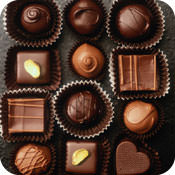 7 Myths and Facts about Chocolate
Melting the Myths for Good
-- By Leanne Beattie, Health & Fitness Writer
Whether you prefer a gooey chocolate truffle or a mug of hot cocoa, chocolate is the number one indulgence for most of us—especially on Valentine's Day. But this indulgence comes at a price, right? After all, isn't chocolate bad for us, full of caffeine and saturated fat? Not so fast—new research has shown that chocolate can be a part of a healthy diet after all.

Here are some common myths about this Valentine's Day (or any day) treat, along with the facts to set the record straight.

Myth: Chocolate is high in caffeine.
Fact: While eating chocolate may perk you up, chocolate is actually not very high in caffeine. A 1.4-ounce chocolate bar or an 8-ounce glass of chocolate milk both contain 6 mg of caffeine, the same amount as a cup of decaffeinated coffee. (For reference, regular coffee contains about 65-135mg of caffeine.)

Myth: Chocolate is loaded with saturated fat and is bad for your cholesterol.
Fact: Stearic acid, the main saturated fat found in milk chocolate, is unique. Research has shown that it doesn't raise cholesterol levels the same way that other types of saturated fats do. In fact, eating a 1.4 ounce chocolate bar instead of a carbohydrate-rich snack has been shown to increase HDL (good) cholesterol levels.