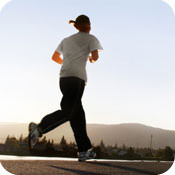 Charity Races Mix Fitness and Fundraising
A Win-Win Scenario: Get Fit and Help Others!
-- By Jason Anderson, Certified Personal Trainer
Donkey basketball. A classic example of two words you'd never include in the same sentence let alone next to each other. Yet some of you may have heard of it nonetheless. Donkey basketball was an annual event that took place in my small southern town when I was a kid: Real life donkeys in the high school gym, mounted by people and playing basketball for an audience. The whole point of donkey basketball was to raise money for a good cause. What can I say? We've come a long way since then!

Fitness-themed fundraising events continue today, but thankfully donkey basketball is a thing of the past (I hope!). Today, many charity groups hold specific fitness events with the goal of recruiting participants to help raise money and awareness for their cause. In return, the charity often provides participants with the tools they need to achieve their goals. Chances are that right now there are some charity events in your community. You may have even walked, ran or biked in one! People participate in these events for a host of reasons, whether they want to contribute to a good cause, get some exercise, or wear their race T-shirt with pride.

I have had personal experience with charity races on three different occasions. My first was at the Country Music Half Marathon, which benefited a local group called Team ASK (Athletes for Special Kids). The second was the Tour de Cure bike ride for the American Diabetes Association. And most recently, I fulfilled my dream of running in the Marine Corps Marathon in Washington, D.C. for the Injured Marine Semper Fi Fund. There are many others out there including the well-known Leukemia and Lymphoma Society's Team In Training program, which offers various events all over the country. (If you have ever seen a lot of people in purple tank tops during televised marathons or races, those are the folks!) And this year's Marine Corps Marathon has are over 70 participating charity groups from which participants can choose from.