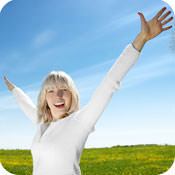 6 Steps to Strengthen Your Immune System
Boost Your Body's Defenses
-- By Liza Barnes, Health Educator
Your immune system is important. Very much like your own personal army, it guards your body against attacks from invaders (like bacteria, fungi, and viruses), defending against infections and several kinds of cancer. And it's smart, too, often "remembering" certain infections so it's ready for them the next time they try to attack. But just like any other body system, your immune system can deteriorate if you don't treat it well. Keep it functioning at its peak performance, so you can stay healthy, too, by following these six steps.

1. Eat Right
In theory, this one is pretty simple: Eat just enough of the right foods when you feel hungry. Unfortunately, this isn't as simple to put into practice. We're tempted by unhealthy options everywhere we turn, we eat for emotional reasons, or we don't even know what the "right" foods are. For those of us who struggle in this area, this may take some work.

Avoid eating too much, which can lead to weight gain and harm the immune system. Research performed by scientists at the University of North Carolina at Chapel Hill School of Medicine has shown that obesity prevents the immune system from functioning properly, increasing its vulnerability to infection. In the study, obese mice were found to be 50 percent less capable of killing the flu virus, compared to lean mice. The researchers believe that the same holds true in humans. To find out how many calories you need to maintain or lose weight, refer to your customized Nutrition Tracker.