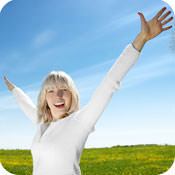 6 Steps to Strengthen Your Immune System
Boost Your Body's Defenses
-- By Liza Barnes, Health Educator

Just as important as how much you're eating, is what foods you're eating. Some nutrients and foods that have been found to enhance the immune system include:
Vitamin C-rich foods, like citrus fruit and broccoli
Vitamin E-rich foods, like nuts and whole grains
Garlic
Zinc-rich foods, like beans, turkey, crab, oysters, and beef
Bioflavanoids, which are found in fruits and vegetables
Selenium-rich foods, like chicken, whole grains, tuna, eggs, sunflower seeds, and brown rice
Carotenoid-rich foods, like carrots and yams
Omega-3 fatty acids, found in nuts, salmon, tuna, mackerel, flaxseed oil and hempseed oil.
Of course, you can find these nutrients in pill form, but food is always the best and most usable source of vitamins and minerals.
Supplements can be shady
, since no regulating body ensures that they contain what they claim to, or that they'll be absorbed as well as nutrients you get from food.
Some immune system all-stars that have recently garnered a lot of attention in the scientific community are vegetables from the brassica family, like broccoli, Brussels sprouts, cauliflower, and cabbage. According to a new study led by researchers at the University of California, Berkeley, and published online in the
Journal of Nutritional Biochemistry
, a chemical produced when these vegetables are eaten can stop the growth of cancer cells and boost the production of certain components of the immune system. Turns out, Mom was onto something when telling you to each your broccoli!