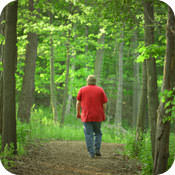 Bust Your Bad Mood with Exercise
Use Fitness, Not Food, to Change Your State of Mind
-- By Jason Anderson, Certified Personal Trainer
Some days, I am just in a mood. I don't know what you call it, maybe stressed, bored, lonely, angry, sad, anxious, or tired. I call it "getting into a funk." When it happens, I have allowed my circumstances to dictate my attitude and my thinking and then—bam! Before I know what hit me, I'm in a full-blown funk. While I like to exercise when a bad mood rises, others turn to unhealthy habits like emotional eating or smoking. When you're upset, stressed or otherwise not feeling like yourself, exercise—and the mood-enhancing endorphins it produces—can be the best thing for you. Don't you believe me?

The next time you feel that mood coming on, identify what you're feeling and why. Are you bored because your best friend is out of town? Are you feeling lonely since the kids have left the nest? Or maybe you are stressing over finances. Whatever it is, pinpoint it. Then use the specific ideas below to bust your bad mood with a feel-good exercise prescription.

Your Mood: Angry
Your blood is boiling! You want to take this anger out on someone before you explode!
Mood Busting Exercises: Kickboxing, boxing, shadowboxing, or martial arts.