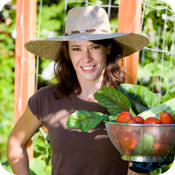 The 10 Easiest Vegetables to Grow
Ease into the Garden with These Plants
-- By Jenny Sigler, SparkPeople Contributor
New to gardening? Worried that planting your first edibles will turn out to be a fruitless labor? Fear not, novice gardener! While not totally foolproof, certain plants are ideal for gardening neophytes who want to increase their chances of gardening success. Here's a list of the top 10 easiest vegetables you can grow, regardless of skill level or age.

1. Carrots
Find a plot of soil (or a deep pot) that is free from rocks and deep enough to handle this root vegetable. Rocky soil can result in crooked carrots that, while perfectly edible are not the most aesthetically pleasing. Carrots are ready for harvest when their tops breach the soil line. Scarlet Nantes, Danvers Half Long and Sweet Treat are three varieties to try.

2. Green Beans
There are many different kinds of beans, but "broad beans" are one of the easiest vegetables to cultivate. Bush beans are more productive, but broad beans are easier to manage. Pole beans, while easy to grow, also need a trellis. Beans freeze and can extremely well, too! Try Kentucky Wonder and Contender varieties.

3. Lettuce
A salad fresh from your yard is unbeatable! Luckily, lettuce--a vast category of plants that includes microgreens (tender lettuce greens that are chopped when barely a few weeks old), head lettuces, leaf lettuces, spinach, and arugula--is an easy plant to grow and maintain. Do successive sowings every two weeks to space out your harvest. Look for Buttercrunch, Salad Bowl or Rocket (arugula) seeds.