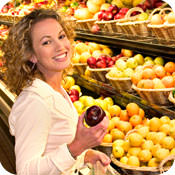 7 Secrets to Outsmart Your Supermarket
Look Past the Super Marketing to Protect Your Wallet and Your Waistline
-- By Sarah Haan, Registered Dietitian

Let's put on our spy gear and take a mental tour through the supermarket to investigate the nooks and crannies where stores hide their tricks. Take note so the next time you head to the grocery, you'll have a plan of attack.

End the End Cap Enticement
Conveniently placed on the end of every aisle, "end caps" are home to sale items and seasonal kits that may not have been on your list but look oh-so-inviting when you see them. Items for s'mores, pumpkin pie, or green bean casserole are often creativity combined on these aisle ends. Foods on end caps are generally low in nutrients and high in added fat and sugar. Battle plan: If it's on your list for greater health, you just saved a trip down the aisle. If it's not, smile, but keep walking past the pretty display and find your next listed item.

Shelve Your Impulses
Major brands pay grocers to shelve their top-selling items at eye level. They even go so far as to place products geared toward children right within their little paws' reach—cartoon characters, bright colors and all are low to the ground or cart-level for wee ones who sit in the seat of your shopping cart. Battle plan: Make an educated decision. Glance up and down before choosing an item (less inexpensive generic items, often the same nutritionally, might be lower or higher on the shelf than more expensive brand named products). And always check out the nutrition facts label. Also, if you are shopping with the kiddies, ask them to help you find healthful foods in the store. Turn your grocery list into a scavenger hunt checklist to play as you shop.