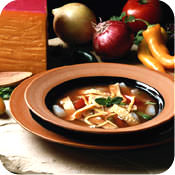 Umami: What You've Been Missing!
The five tastes: Sour, sweet, bitter, salty, and ... umami!
-- By Stepfanie Romine, Staff Writer
You've slimmed down your recipes, made healthy food swaps, and integrated vegetables into your meals. But do you ever feel like your food is missing something? When you finish eating, do you ever wonder why a meal just didn't hit the spot?

You're probably missing umami.

You've probably heard of the four basic tastes: bitter, sour, sweet and salty. Well, "umami," which means "yummy" in Japanese, is another distinct taste. Commonly found in fermented or aged foods, umami (pronounced ooh-mah-mee) adds that "mouth feel" to food. It makes your food feel richer, more delicious and more decadent. A key component in Chinese and Japanese cuisine, umami is starting to gain importance in Western cooking. American cooking tends to rely on fat or salt to get that feeling, but there are other, healthier ways to give your food and meals a little more oomph.

Ever notice how parmesan makes pasta taste so much better? Or how much tastier ketchup makes your burgers? The parmesan, the tomatoes, and the beef all contain umami. Think about Japanese miso soup or almost any Chinese food. They're delicious and satisfying, thanks to umami-rich seaweed, fish, and soy sauce.

Many foods are considered to have umami, including familiar foods like pepperoni pizza and hamburgers! And many condiments that seem to add "empty" calories (ketchup, steak sauce and Worcestershire sauce) actually help food feel more satisfying when you eat it.