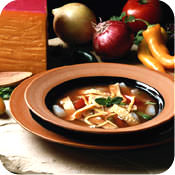 Umami: What You've Been Missing!
The five tastes: Sour, sweet, bitter, salty, and ... umami!
-- By Stepfanie Romine, Staff Writer

Here's a list of some umami rich foods:

aged cheeses (cheddar, Emmental, Gruyere, parmesan, Romano)
bouillon or stock
cured meats (ham, bacon, sausage)
dried fish or seafood
ketchup
soy sauce (naturally brewed "tamari" or other varieties)
steak sauce
tomatoes ( sun-dried or ripe)
Worcestershire sauce

By adding more of these foods to your meals, you can boost your satisfaction and potentially eat fewer calories overall and avoid overeating. A little goes a long way, and many foods rich in umami should be used as seasonings rather than main ingredients because they can be high in sodium and fat. Try adding a pinch of Romano cheese to steamed veggies or adding asparagus or mushrooms to your salad. If you're feeling decadent, put a pinch of crumbled bacon or a couple of sun-dried tomatoes in an egg white omelet. That could be just what hits the spot!