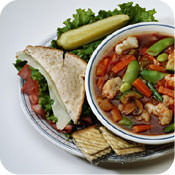 SparkRecipes FAQs
Learn More about Your Favorite Healthy Cooking Site
-- By SparkPeople
These instructions assume you are on the SparkRecipes site. To get to SparkRecipes from SparkPeople, click on Articles & Videos at the top of the page and select SparkRecipes.com from the dropdown menu.

How do I become a SparkRecipes member?
SparkRecipes is linked to SparkPeople, so that any recipe you find here can be added to your daily meal plan on SparkPeople's Nutrition Tracker. Sign up for one site, and you'll have access to both. If you are a SparkPeople member, you can share recipes immediately. If you need to sign up for an account, click here.

Do I need to be a member to calculate nutrition info or search for recipes?
You can calculate nutrition info in any recipe and search for recipes on our site without being a member. However, you cannot save any recipes without becoming a member. Joining is easy and free, so we recommend signing up.

How do I add a recipe to your site?

Click the "Add/Calculate Recipe" tab at the top of any page on SparkRecipes.


Enter the ingredients, nutritional information and cooking instructions for your recipe.




At the bottom of the page, above the "Save Recipe" button are two checkboxes: "Submit My Recipe to SparkPeople's Shared Recipes Database" and "I want an email to be sent to me when anyone comments on this recipe."