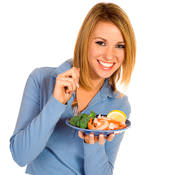 10 Tips to Keep from Overeating at a Party
Resist Temptation at Your Next Celebration
-- By Stepfanie Romine, Staff Writer
Temptations abound at parties, but celebration doesn't have to mean overindulgence. Follow these tips to stay on track.

Say no the first time to passed hors d'oeuvres. Chances are good that food will come around again. See what's being served before you decide what to eat.

Limit your alcohol. Inhibitions are lowered with every drink, and those cocktails aren't calorie free. Alternate alcohol with water or another calorie free drink. And don't combine alcohol with caffeine. Caffeine speeds up the rate at which alcohol is metabolized, and it masks the effect of the alcohol.

Eat before you go. Don't go to a party starving. Eat a hard-boiled egg and an apple, a banana with some peanut butter or a slice of turkey. The protein will fill you up for few calories. You'll be less likely to binge if you're not overly hungry.

Treat appetizers as a meal. If you're going to eat 400 calories worth of appetizers, know that that's your dinner. Don't expect to go home and eat a "real" meal.

Survey the spread before you fill your plate. Confronted by so many rich foods, you might want to start piling up the food, but stop and take a deep breath. Think before you serve yourself (and try to serve yourself, so you control the serving size).