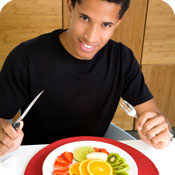 9 Simple Tricks to Eat Less
Cut Calories, Not Satisfaction
-- By Sarah Haan, Registered Dietitian and Nicole Nichols, Health Educator

2. Use smaller plates, cups and bowls.
Your mother was right about some things: Your eyes really can be bigger than your stomach. Research has shown that when people use large bowls, plates and serving utensils, they serve themselves more and consume more food. In a 2006 study published in the American Journal of Preventive Medicine, 85 nutrition professionals were asked to serve themselves a bowl of ice cream. Researchers provided a variety of bowl and spoon sizes. Subjects with larger bowls served themselves 31% more ice cream; when they used a large spoon, they dished 14.5% more into their bowls. Although the super-sized plates may look slick, put those away for special occasions. When you see a large canvas, you want to fill it! ACTION TIP: Eat from smaller salad plates and small bowls for daily use. Without even realizing it, you'll serve and eat less. If your dinnerware is oversized, it might be time for new dishes that won't dwarf your properly portioned meals.

3. Pre-portion your foods.
How often do you eat straight from the bag of crackers or chips? How is it possible to track your food or know how much you eat without measuring it? That's just one reason you should never eat directly from a box or bag that contains multiple servings of a food. Grab your measuring cups and a small bowl (see #2 above) to keep your calories in check. Why? Because it's easy to overeat when you're reaching into a bottomless bag of food. ACTION TIP: Instead of reaching into the chip bag or a big bowl of chips at a party, pre-portion your snacks into a smaller container (or plate) so you know exactly how much you're eating. Then, put the big bag away (or walk away from the chip bowl). You are much less likely to overeat enjoy the smaller portion you served yourself. So dish it up, put the rest away, and taste every bite (see #1 above).