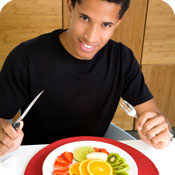 9 Simple Tricks to Eat Less
Cut Calories, Not Satisfaction
-- By Sarah Haan, Registered Dietitian and Nicole Nichols, Health Educator

4. Know your pitfalls.
We all have food weaknesses. That food that you can't resist. The food you can't stop eating once you started. The food you have trouble saying no to, even if you're not hungry. The food you think about even when it's not in the vicinity. Maybe you'll never shake the grip this food has you on, but the first step is recognizing it. Take a minute to think about your food weaknesses. Once you know what they are, you can take extra measures to prevent overeating these particular foods, whether you avoid repeated exposure to this food or plan the rest of your day's intake planning to enjoy a bit of this favorite food. ACTION TIP: Make a list of your food weaknesses and the places you encounter them. Come up with solutions to avoid those encounters, like not venturing down the snack food aisle in the grocery store or choosing a different route to bypass the co-worker who always offers free doughnuts. Stick with your plan of avoidance until you build up the strength to face that food without giving up your control.

5. Keep a food journal.
Keeping a food diary is the best weight-loss tool. Several studies have confirmed this, and most SparkPeople members would agree, too. One recent study published in the American Journal of Preventive Medicine found that dieters who kept track of their food lost twice as much weight as those who didn't. Writing down what you eat will encourage you to think about your food choices all day, and consider what you've already eaten and what you plan to eat later. This means you'll make conscious choices more often and usually curb your calorie intake as a result. Whether you jot foods down on a sticky note, keep a small paper pad in your purse or use SparkPeople's free Nutrition Tracker, writing down everything you eat will keep your calories in check. ACTION TIP: If you don't' already, start tracking your food. Even if you don't list all the calories, fat or carbs you eat, even a simple list can make a big difference. Don't forget to include beverages, sauces, condiments, and other small "tastes" in your log! Extra calories can be hiding in these items.