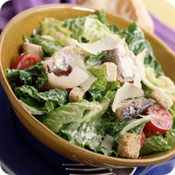 Best and Worst Salad Toppings
Not Every Salad is a Healthy One
-- By Liza Barnes, Health Educator

Lettuce
The foundation of most salads, lettuce adds substance, crunch, water, and fiber for very few calories—only about 10 per cup. But if you want all that and vitamins, too, toss out the iceberg and toss in the romaine, mixed baby greens and spinach. While iceberg lettuce is lower in nutrients (and still makes a decent choice if it's the only thing available), these other greens are rich in vitamins A, C and K, manganese, and folate.

Protein
Adding protein, such as lean meat, tofu, eggs or beans, will help bulk up your salad and keep you full longer. Unfortunately, many protein toppings are deep-fried, breaded and greasy, which adds unnecessary calories plus cholesterol, sodium and fat to your salad. Skimp on fattier toppings such as bacon and fried (breaded) chicken strips, and go for lean proteins instead. Grilled chicken, canned beans of all kinds, chickpeas, tofu, hardboiled eggs (especially whites), or water-packed tuna are leaner choices. Nuts and seeds are popular in salads, too, and while they're a healthy source of good fats and some protein, they're not exactly low-cal. If you choose to add them, watch your portions (1/2 ounce contains more than 80 calories).

Cheese
Restaurants know that people love cheese, so they tend to pile on multiple servings of it on their salads. It might be tasty, but it sends the calorie counts sky high! While cheese is a nutritious food that adds flavor, calcium, and protein to a salad, enjoy it in moderation due to its high fat content. Just a half-cup of cheddar cheese (the amount on many large restaurant salads) contains 18 grams of fat and 225 calories. To keep calories in check, use a single serving of cheese (approximately 2 tablespoons). Choose low-fat varieties as much as possible to save on saturated fat and calories. A smaller amount of a stronger-flavored cheese, such as Brie, feta, chevre, gorgonzola, sharp cheddar or bleu cheese will go a long way in helping you cut down on your portions.