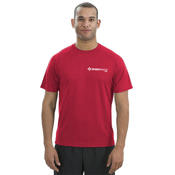 6 Things to Look for When Buying Exercise Apparel
How to Shop for Workout Clothes
-- By Leanne Beattie, Health & Fitness Writer
A cool wind whipped around me as I crested the final hill along my running route. "Ah, relief!" I thought, pulling my dripping T-shirt away from my skin. This will cool me off. But instead of making me feel refreshed, the wind chilled me to the bone. "So much for a great workout," I mumbled as I shivered the rest of the way home. I thought I had dressed properly for my run, but apparently I had missed something before heading out the door that morning.

Wearing the right clothing can make the difference between an enjoyable workout and an hour of misery. And investing in some stylish yet comfortable workout clothing is the perfect motivation to get you moving, whether you're hitting the gym, heading for the hills or exercising in the comfort of your own home. I already had enough excuses not to exercise—my workout clothing didn't need to be one more of them.

The big mistake I had made was wearing a cotton T-shirt for my workout. Instead, I should have worn a shirt designed to draw sweat away from the body and move it to the outer surface. These "wicking" clothes (also called technical or performance fabrics) are usually made of polyester and/or Lycra blends. They may cost more than your average cotton T-shirt, but they'll also last longer and keep you comfortable.