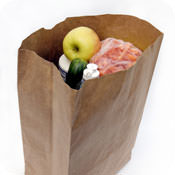 5 Ways to Prevent Food from Going to Waste
Don't Kick Food Waste to the Curb--Prevent It
-- By Sarah Haan, Registered Dietitian
Food spoils--and quickly! When thinking about your own kitchen, you may not view the food you toss or the leftovers you never eat as money down the drain, but food waste has a major impact on your bank account and the environment. The Natural Resources Defense Council reports that "American families throw out approximately 25 percent of the food and beverages they buy. The cost estimate for the average family of four is $1,365 to $2,275 annually."

Fortunately, you can start at home and do your part to help curb food waste. You'll be thinking green and stretching your dollars further at the same time. Some simple changes can have big effects! Here are a few ideas to get you started.

Create a plan—and stick to it!
Meal planning is a critical step to help you spend less and waste less. When you know what you're going to eat today, tomorrow and this coming weekend, you will only purchase the foods you need at the store, preventing you from buying foods on a whim only to have them spoil before you eat them. Creating the plan isn't enough—you must stick to it if it's going to work. Setting your sights for making chili next weekend is great, but when you lose track of time during the week and let the veggies wilt, you are throwing away more than spoiled food; you're wasting your money, too. Stay on top of your planned meal schedule by keeping a calendar on the fridge to remember what's on the menu each day. When planning, account for all the foods you have to buy and creatively use them throughout the week. Use that eight-pack of whole-wheat hamburger buns for a cookout one night and tuna sandwiches for lunch the next day, for example.